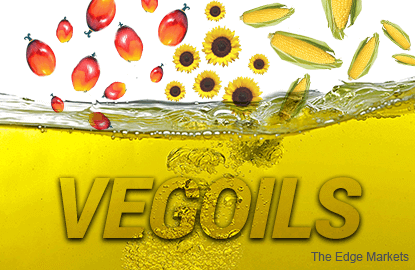 KUALA LUMPUR (Feb 28): Malaysian palm oil futures extended falls into a second session on Tuesday, hitting their lowest in nearly four months, on forecasts of weaker demand and rising output.
Benchmark palm oil futures for May on the Bursa Malaysia Derivatives Exchange were down 0.5% at 2,739 ringgit (US$616.48) a tonne at the midday break.
Earlier in the session, they fell to their weakest level since Nov 4, 2016 at 2,736 ringgit. Palm has posted two consecutive weeks of declines, shedding 8.6%.
Traded volumes stood at 22,527 lots of 25 tonnes each at noon on Tuesday.
"Export plays a part in it," said a futures trader from Kuala Lumpur, referring to cargo surveyor data that showed slowing shipments for February. 
"Production is picking up... So, traders are selling ahead."
Palm oil shipments from Malaysia, the world's second-largest palm oil producer after Indonesia, fell 14.2% in February from a month earlier, according to data from Intertek Testing Services on Tuesday.
Output is expected to rise from now and the second quarter of the year, following a recovery in fresh fruit yields. A crop-damaging El Nino had impacted production in late 2015 and 2016, but analysts forecast its effects to wear off this year.
Palm oil may break a support at 2,750 ringgit per tonne and fall more to the next support at 2,703 ringgit, according to Wang Tao, a Reuters market analyst for commodities and energy technicals.
In related vegetable oils, soybean oil on the Chicago Board of Trade was up 0.2%, while the soybean oil contract on the Dalian Commodity Exchange fell 0.3%. 
The May contract for palm olein on the Dalian Commodity Exchange was down 0.7%.
Palm, soy and crude oil prices at 0437 GMT
| | | | | | | |
| --- | --- | --- | --- | --- | --- | --- |
| Contract | Month | Last | Change | Low | High | Volume |
| MY PALM OIL | MAR7 | 2887 | -33.00 | 2887 | 2915 | 344 |
| MY PALM OIL | APR7 | 2787 | -15.00 | 2786 | 2813 | 1043 |
| MY PALM OIL | MAY7 | 2739 | -15.00 | 2736 | 2767 | 10623 |
| CHINA PALM OLEIN | MAY7 | 5790 | -40.00 | 5742 | 5826 | 423328 |
| CHINA SOYOIL | MAY7 | 6576 | -20.00 | 6534 | 6598 | 233770 |
| CBOT SOY OIL | MAY7 | 32.69 | +0.02 | 32.55 | 32.75 | 4319 |
| INDIA PALM OIL | FEB7 | 544.90 | +0.00 | 544.40 | 544.9 | 7 |
| INDIA SOYOIL | MAR7 | 0 | +0.00 | 0 | 0 | 0 |
| NYMEX CRUDE | APR7 | 54.20 | +0.15 | 54.01 | 54.21 | 11303 |
 Palm oil prices in Malaysian ringgit per tonne
 CBOT soy oil in U.S. cents per pound
 Dalian soy oil and RBD palm olein in Chinese yuan per tonne
 India soy oil in Indian rupee per 10 kg
 Crude in U.S. dollars per barrel
 
(US$1 = 4.4430 ringgit)
(US$1 = 66.7600 Indian rupees)
(US$1 = 6.8680 Chinese yuan)