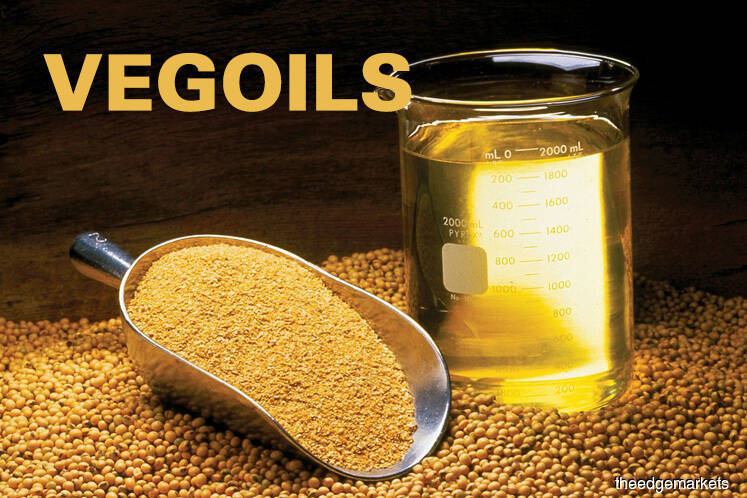 KUALA LUMPUR (May 9): Malaysian palm oil futures fell more than 1% in late trade on Thursday, charting a second session of losses, as worries over U.S.-China trade relations weighed on prices.
The benchmark palm oil contract for July delivery on the Bursa Malaysia Derivatives Exchange was last down 1.6% at 2,005 ringgit (US$482.90) a tonne at the close of trade, its sharpest daily fall in a week. 
"The market is still carrying the worries of the trade war," said a Kuala Lumpur-based trader. 
Global stocks and commodities markets were hit earlier this week, after U.S. president Donald Trump threatened to impose additional tariffs on Chinese imports. 
The U.S. announced that tariffs on US$200 billion worth of Chinese goods would increase to 25%, from 10% on Friday, right in the middle of two days of meetings between Chinese Vice Premier Liu He and Trump's top trade officials in Washington.
On Friday, the Malaysian Palm Oil Board is scheduled to release official data reporting on April end-stocks, production and exports after 0430 GMT.
A Reuters poll had forecast that Malaysia's production in April would fall to 1.64 million tonnes, down 1.9% from March. Stocks are also seen declining 5% to 2.77 million ringgit.
In other related oils, the Chicago July soybean oil contract fell 0.7%, while the May soyoil contract on the Dalian Commodity Exchange was trading flat.
Meanwhile, the Dalian May palm oil contract slipped 0.3%.
Palm oil prices are affected by movements in soyoil, with which it competes for global market share.
| | | | | | | |
| --- | --- | --- | --- | --- | --- | --- |
| Contract | Month | Last | Change | Low | High | Volume |
| MY PALM OIL | MAY9 | 1922 | -12.00 | 1900 | 1922 | 12 |
| MY PALM OIL | JUN9 | 1966 | -38.00 | 1965 | 2003 | 1358 |
| MY PALM OIL | JUL9 | 2004 | -32.00 | 2001 | 2039 | 20154 |
| CHINA PALM OLEIN | MAY9 | 4160 | -12.00 | 4144 | 4160 | 402 |
| CHINA SOYOIL | MAY9 | 5262 | +0.00 | 5242 | 5400 | 104 |
| CBOT SOY OIL | JUL9 | 26.8 | -0.20 | 26.75 | 26.92 | 6048 |
| INDIA PALM OIL | MAY9 | 519.10 | -1.50 | 518.10 | 522.6 | 618 |
| INDIA SOYOIL | MAY9 | 740.1 | +1.50 | 737.6 | 741.85 | 2850 |
| NYMEX CRUDE | JUN9 | 62.06 | -0.06 | 61.34 | 62.11 | 158923 |
 Palm oil prices in Malaysian ringgit per tonne
 CBOT soy oil in U.S. cents per pound
 Dalian soy oil and RBD palm olein in Chinese yuan per tonne
 India soy oil in Indian rupee per 10 kg
 Crude in U.S. dollars per barrel
 
(US$1 = 4.1520 ringgit)
(US$1 = 69.9030 Indian rupees)
(US$1 = 6.8232 Chinese yuan)