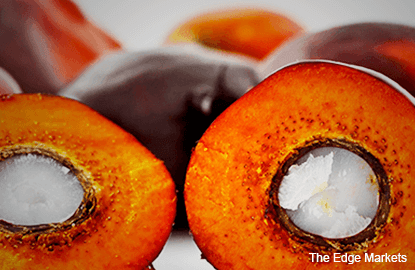 KUALA LUMPUR (March 3): Malaysian palm oil futures fell on Friday, heading for their first drop in four sessions on declines in overnight soyoil prices, and on expectations of bearish forecasts at an upcoming industry conference.
Benchmark palm oil futures for May delivery on the Bursa Malaysia Derivatives Exchange were down 0.6% at RM2,845 (US$638.90) a tonne at the midday break, after gaining about 4% in the last three sessions.
For the week, they have gained 1.4% in what could be their first weekly rise in three.
Traded volumes stood at 17,685 lots of 25 tonnes each on Friday at noon.
"Soyoil was down sharply yesterday... There was some profit-taking after a strong upside, so palm also saw some pull-back," said a futures trader from Kuala Lumpur.
"The second thing is no one wants to take a strong, long position ahead of the palm and lauric oil conference," he said, referring to the palm oil industry conference in Kuala Lumpur next week.
Industry players expect leading analysts to provide bearish price forecasts at the conference. Palm prices are seen weakening between now and the second half of the year as production levels are expected to recover when the effects of a crop-damaging El Nino wear off.    
Palm oil prices are also impacted by the movements of related oils such as soy as they compete for a share in the global vegetable oils market.
In related vegetable oils, soybean oil on the Chicago Board of Trade rose 0.3%, while the May soybean oil contract on the Dalian Commodity Exchange was down 0.03%.
The May contract for palm olein on the Dalian Commodity Exchange gained 0.4%.
Palm oil is expected to test a support at RM2,820 per tonne, according to Wang Tao, a Reuters market analyst for commodities and energy technicals.
Palm, soy and crude oil prices at 0541 GMT
| | | | | | | |
| --- | --- | --- | --- | --- | --- | --- |
| Contract          | Month    | Last  | Change     | Low    | High  | Volume |
| MY PALM OIL       | MAR7        | 0   | +0.00       | 0 | 0 | 0 |
| MY PALM OIL       | APR7     | 2892  | -19.00    | 2883    | 2905     | 654 |
| MY PALM OIL       | MAY7     | 2845  | -17.00    | 2836    | 2860   | 10180 |
| CHINA PALM OLEIN  | MAY7     | 5894  | +22.00    | 5822    | 5910  | 405398 |
| CHINA SOYOIL      | MAY7     | 6678   | -2.00    | 6634    | 6688  | 215984 |
| CBOT SOY OIL      | MAY7    | 34.23   | +0.00   | 34.02   | 34.32    | 4201 |
| INDIA PALM OIL    | MAR7   | 536.10   | -3.50  | 535.10   | 538.2     | 698 |
| INDIA SOYOIL      | MAR7    | 667.6   | -1.10  | 665.15  | 667.85    | 2360 |
| NYMEX CRUDE       | APR7    | 52.65   | +0.04   | 52.55   | 52.80   | 17402 |
Palm oil prices in Malaysian ringgit per tonne
CBOT soy oil in US cents per pound
Dalian soy oil and RBD palm olein in Chinese yuan per tonne
India soy oil in Indian rupee per 10 kg
Crude in US dollars per barrel
(US$1 = RM4.4530)
(US$1 = 66.8600 Indian rupees)
(US$1 = 6.8986 Chinese yuan)