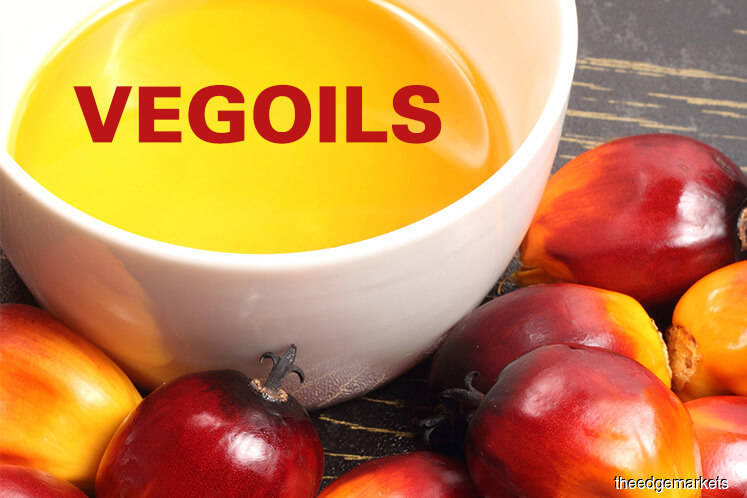 KUALA LUMPUR (May 6): Malaysian palm oil futures fell to their lowest in more than five months on Monday as US President Donald Trump's threats to increase tariffs on Chinese imports risked prospects of a trade deal, sending commodities and stock markets lower.
The benchmark palm oil contract for July delivery on the Bursa Malaysia Derivatives Exchange was last down 1% at RM1,989 (US$479.62) a tonne, in line for a seventh consecutive day of losses.
It earlier fell as much as 2% to RM1,970, its weakest level since Nov 28.
Palm oil is expected to seek a support range of RM1,940-1,967 per tonne and stabilise around it, said Wang Tao, a Reuters market analyst for commodities and energy technicals.
"A possible fall out in the US-China trade talks after Trump threatened to escalate the year-long trade war and China retaliating by considering delaying the next trade talk is pressuring palm prices further," said a futures trader in Kuala Lumpur.
"The current weakness in commodities and stock markets around the globe may further see extensions of selling activities."
President Trump dramatically increased pressure on China on Sunday to reach a trade deal, saying he would hike US tariffs on US$200 billion worth of Chinese goods this week and target hundreds of billions more soon.
Stock markets sank and oil prices tumbled as negotiations were thrown into doubt.
In other related oils, the Chicago May soybean oil contract fell 1.6% on Monday, having lost 1.6% the previous week.
Chicago soybean futures dropped to their lowest in more than seven months, extending declines into a seventh session amid expectations that a lack of US corn planting due to delays in rain could fuel a shift to more soybean acreage, and over the intensifying trade dispute between Washington and Beijing.
Palm oil prices are impacted by movements in soyoil, as the edible oils compete for global market share.
Meanwhile, the May soyoil contract on the Dalian Commodity Exchange rose 0.8%, and the Dalian May palm oil contract DCPK9 declined 1.3%.
Palm, soy and crude oil prices at 0615 GMT
| | | | | | | |
| --- | --- | --- | --- | --- | --- | --- |
| Contract          | Month    | Last  | Change     | Low   | High  | Volume |
| MY PALM OIL       | MAY9        | 0   | +0.00 | 0 | 0 | 0 |
| MY PALM OIL       | JUN9     | 1963  | -20.00    | 1941   | 1967    | 2062 |
| MY PALM OIL       | JUL9     | 1989  | -21.00    | 1970   | 1996   | 11467 |
| CHINA PALM OLEIN  | MAY9     | 4170  | -56.00    | 4092   | 4242    | 6604 |
| CHINA SOYOIL      | MAY9     | 5248  | +40.00    | 5092   | 5440    | 5022 |
| CBOT SOY OIL      | MAY9    | 26.65   | -0.42   | 26.63  | 26.65     | 124 |
| INDIA PALM OIL    | MAY9   | 515.80   | -2.90  | 514.00  | 517.2     | 160 |
| INDIA SOYOIL      | MAY9    | 732.6   | -2.90   | 730.4    | 733    | 3410 |
| NYMEX CRUDE       | JUN9    | 60.49   | -1.45   | 60.04  | 61.45  | 106925 |
Palm oil prices in Malaysian ringgit per tonne
CBOT soy oil in US cents per pound
Dalian soy oil and RBD palm olein in Chinese yuan per tonne
India soy oil in Indian rupee per 10 kg
Crude in US dollars per barrel
(US$1 = RM4.1470)
(US$1 = 69.3750 Indian rupees)
(US$1 = 6.7801 Chinese yuan)