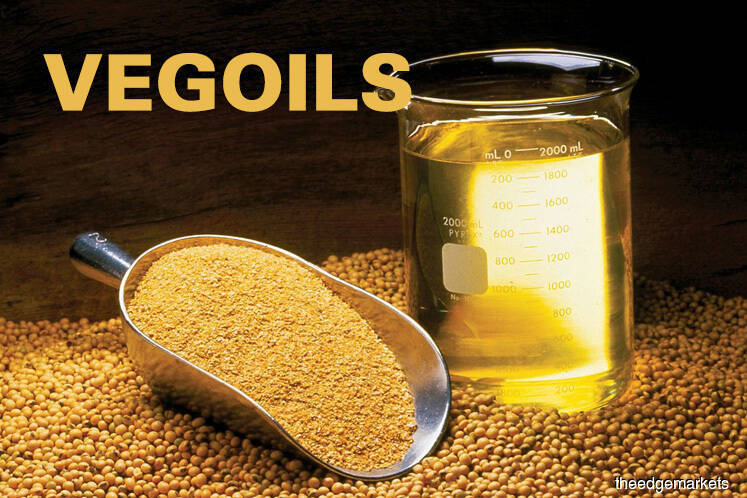 KUALA LUMPUR (Jan 24): Malaysian palm oil futures extended gains on Thursday to hit their highest in nearly five months on expectations of declining production.
The benchmark palm oil contract for April delivery on the Bursa Malaysia Derivatives Exchange was up 0.2% at RM2,287 (US$552.95) a tonne at the midday break, heading for a fifth straight session of gains.
The contract earlier rose to its highest since Sept 5, 2018 at RM2,294.
Trading volumes stood at 6,419 lots of 25 tonnes each at noon.
"Palm is up on lower production (expectations) and short-covering, and tracking overnight soyoil (on the Chicago Board of Trade)," said a Kuala Lumpur-based futures trader. "The technical outlook is positive for palm."
Palm oil production in January is expected to decline from the previous month, in line with seasonal trend. Production fell 2% to 1.81 million tonnes in December.
Meanwhile, the Chicago March soybean oil contract rose 1.1% on Wednesday, in line with gains in US soybean futures and on worries of poor crop weather reducing yield potential in South America.
Soybean oil prices were last up 0.2% on Thursday.
In other related oils, the May soybean oil contract on the Dalian Commodity Exchange rose 0.4%, and the Dalian January palm oil contract gained 0.6%.
Palm oil prices are impacted by movements in soyoil rates, as they compete for a share in the global vegetable oil market.
Palm oil may rise more into a range of RM2,304-2,322, as it has cleared a resistance at RM2,274 per tonne, said Wang Tao, a Reuters market analyst for commodities and energy technicals.
Palm, soy and crude oil prices at 0444 GMT:
| | | | | | | |
| --- | --- | --- | --- | --- | --- | --- |
| Contract          | Month    | Last  | Change     | Low    | High  | Volume |
| MY PALM OIL       | FEB9     | 2199   | +8.00    | 2190    | 2199     | 167 |
| MY PALM OIL       | MAR9     | 2256   | +5.00    | 2247    | 2260     | 480 |
| MY PALM OIL       | APR9     | 2287   | +4.00    | 2278    | 2294    | 3556 |
| CHINA PALM OLEIN  | MAY9     | 4780  | +26.00    | 4752    | 4788  | 326374 |
| CHINA SOYOIL      | MAY9     | 5700  | +24.00    | 5660    | 5714  | 286894 |
| CBOT SOY OIL      | MAR9    | 29.43   | +0.05   | 29.34   | 29.47    | 3842 |
| INDIA PALM OIL    | JAN9   | 554.40   | -0.10  | 553.30   | 554.8      | 26 |
| INDIA SOYOIL      | FEB9      | 763   | +2.10     | 761   | 763.7    | 2230 |
| NYMEX CRUDE       | MAR9    | 52.43   | -0.19   | 52.17   | 52.72   | 34950 |
Palm oil prices in Malaysian ringgit per tonne
CBOT soy oil in US cents per pound
Dalian soy oil and RBD palm olein in Chinese yuan per tonne
India soy oil in Indian rupee per 10 kg
Crude in US dollars per barrel
(US$1 = RM4.1360)
(US$1 = 71.2750 Indian rupees)
(US$1 = 6.7851 Chinese yuan)