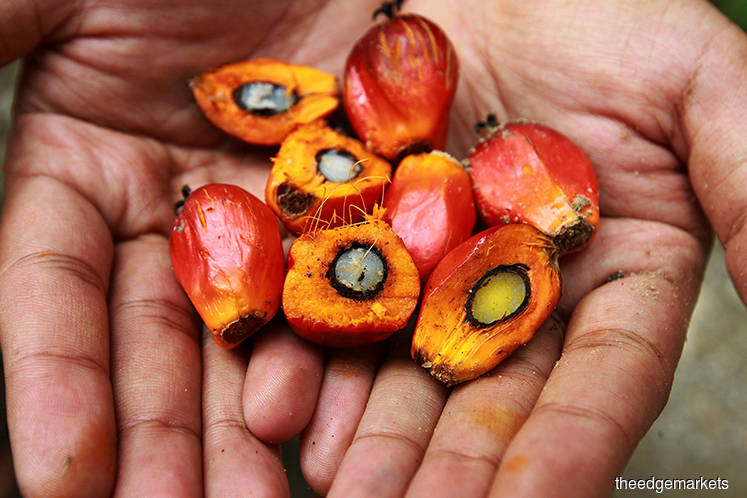 KUALA LUMPUR (July 5): Malaysian palm oil futures declined at the midday break, as traders bore concerns that India could announce changes to its import tariffs on edible oils in its budget announcement on Friday.
The benchmark palm oil contract for September delivery on the Bursa Malaysia Derivatives Exchange was last down 0.5% at 1,941 ringgit ($469.52) per tonne, in line for a third straight day of losses. 
Palm is in line for a second week of declines, and has lost 0.5% so far.
A Kuala Lumpur based trader said the market fell ahead of India's national budget announcement on Friday, as the South Asian nation is the world's biggest importer of palm oil. 
"India contributes to (palm oil) demand," said the trader, adding that industry players were waiting to see if India would amend its import tariffs on edible oils.
Last month, an Indian edible oil refiners association asked Prime Minister Narendra Modi to raise the duty on refined palm oil imports from Malaysia to protect the local industry following a surge in inbound shipments from the South-east Asian country.
Another trader earlier said that slower exports were also weighing on overall market sentiment, but a weaker ringgit would provide some support. 
A weaker ringgit, palm's currency of trade, usually lifts prices of the edible oil by making it cheaper for foreign buyers. The ringgit was last down 0.1% at 4.1340 against the dollar on Friday.  
A Reuters poll showed that Malaysian stocks at end-June are forecast to have fallen 4% to 2.35 million tonnes, while exports were seen easing 19% to 1.39 million tonnes. Meanwhile, June production is expected to fall 8% to an 11-month low of 1.54 million tonnes.
In other related oils, the September soyoil contract on the Dalian Commodity Exchange rose 0.2% and the Dalian September palm oil contract was slightly up 0.1%.
    
Palm oil prices are impacted by movements in related oils, as they compete for a share in the global vegetable oils market.