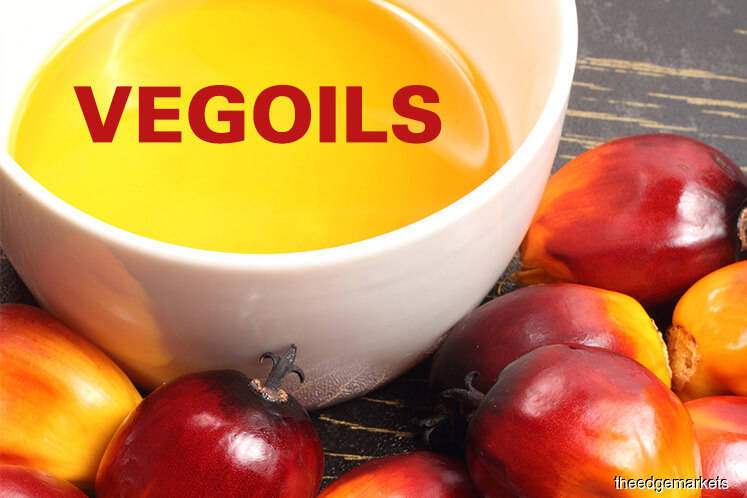 KUALA LUMPUR (June 19): Malaysian palm oil futures jumped more than 1% on Wednesday, as traders bet upcoming export data would overshoot forecasts.
The benchmark palm oil contract for September delivery on the Bursa Malaysia Derivatives Exchange was up 1.2% at 2,047 ringgit (US$491) per tonne at the close.
Cargo surveyors and an independent inspection company had over Saturday and Monday reported more than 15% falls in exports for the June 1-15 period.
"The export rumour for June 1-20 period shows better numbers than in the earlier period," a futures trader based in Kuala Lumpur said.
Malaysia's Southern Peninsular Palm Oil Millers Association reported a 26.4% drop in production on Monday, which also helped boost prices.
In other related oils, the Chicago July soybean oil contract was last up 0.5%.
The September soyoil contract on the Dalian Commodity Exchange fell 1.2% and the Dalian September palm oil contract was also down 0.2%.
 
Palm oil prices are affected by movements in related edible oils, with which it competes for global market share.
                
 Palm, soy and crude oil prices at 1041 GMT
| | | | | | | |
| --- | --- | --- | --- | --- | --- | --- |
| Contract | Month | Last | Change | Low | High | Volume |
| Contract | Month | Last | Change | Low | High | Volume |
| MY PALM OIL | JUL9 | 2026 | +21.00 | 1998 | 2035 | 727 |
| MY PALM OIL | AUG9 | 2041 | +24.00 | 2001 | 2044 | 9311 |
| MY PALM OIL | SEP9 | 2047 | +25.00 | 2007 | 2049 | 23421 |
| CHINA PALM OLEIN | SEP9 | 4366 | -10.00 | 4344 | 4374 | 485162 |
| CHINA SOYOIL | SEP9 | 5436 | -66.00 | 5428 | 5506 | 465904 |
| CBOT SOY OIL | JUL9 | 28.46 | +0.13 | 28.16 | 28.48 | 5478 |
| INDIA PALM OIL | JUN9 | 516.70 | -0.30 | 513.30 | 517.3 | 404 |
| INDIA SOYOIL | JUN9 | 760 | -1.20 | 759.55 | 761.5 | 1000 |
| NYMEX CRUDE | JUL9 | 53.94 | +0.04 | 53.71 | 54.38 | 13348 |
  Palm oil prices in Malaysian ringgit per tonne
  CBOT soy oil in U.S. cents per pound
  Dalian soy oil and RBD palm olein in Chinese yuan per tonne
  India soy oil in Indian rupee per 10 kg
  Crude in U.S. dollars per barrel
 (US$1 = 4.1720 ringgit)
 (US$1 = 69.7150 Indian rupees)
 (US$1 = 6.9003 Chinese yuan)