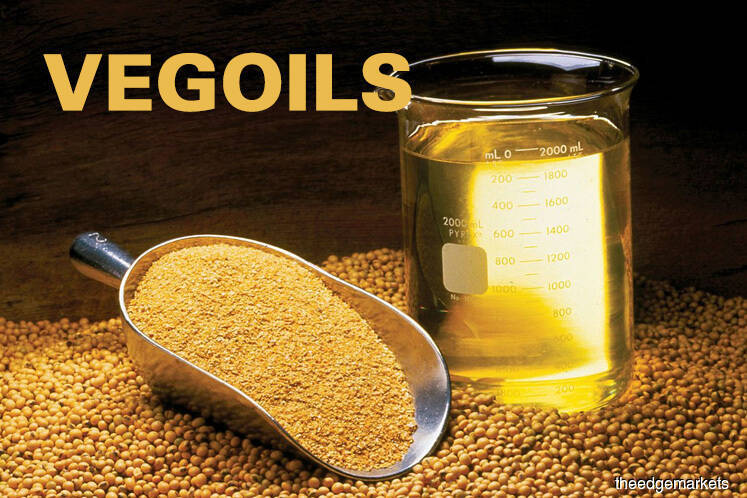 KUALA LUMPUR (April 23): Malaysian palm oil futures fell to its lowest in a week at the midday break on Tuesday, in line to chart a second day of loss, as concerns of high inventory levels in the world's second largest producer persist.
The benchmark palm oil contract for July delivery on the Bursa Malaysia Derivatives Exchange fell 0.6% to RM2,159 (US$523.39) a tonne at the midday break.
It earlier fell to RM2,156, its lowest levels since April 16.
Palm oil is biased to break a support at RM2,155 per tonne and fall towards the next support at RM2,110, following its failure to break a resistance at RM2,227, said Wang Tao, a Reuters market analyst for commodities and energy technicals.
"Production is not coming down, and demand has not been so great. There is a worry that end-stocks is not reducing," said a futures trader in Kuala Lumpur.
He added that palm oil production throughout Malaysia so far this month is showing monthly gains of 2-5%.
Higher output levels would contribute towards a rise in stockpiles, which last year hit its highest levels in at least 18 years.
Inventories had last declined 4.6% to 2.92 million tonnes at end-March, while production rose to 1.67 million tonnes, up 8.3% from February.
Data from cargo surveyors Societe Generale de Surveillance and Intertek Testing Services showed export gains of 1.5-2.2% for the April 1-20 period.
Independent inspection company AmSpec Agri Malaysia, however, reported a 1.8% drop for the same duration.
In other related oils, the Chicago May soybean oil contract fell 0.1%, and the May soyoil contract on the Dalian Commodity Exchange was down 0.2%.
Meanwhile, the Dalian May palm oil contract declined 0.5%.
Palm oil prices are affected by movements in soyoil, as they compete for a share in the global vegetable oil market.
Palm, soy and crude oil prices at 0521 GMT
| | | | | | | |
| --- | --- | --- | --- | --- | --- | --- |
| Contract          | Month    | Last  | Change     | Low   | High  | Volume |
| MY PALM OIL       | MAY9     | 2067  | -23.00    | 2067   | 2080      | 64 |
| MY PALM OIL       | JUN9     | 2140  | -14.00    | 2137   | 2151    | 1556 |
| MY PALM OIL       | JUL9     | 2159  | -13.00    | 2156   | 2170    | 5896 |
| CHINA PALM OLEIN  | MAY9     | 4384  | -24.00    | 4366   | 4396   | 15568 |
| CHINA SOYOIL      | MAY9     | 5332  | -10.00    | 5304   | 5354   | 18128 |
| CBOT SOY OIL      | MAY9    | 28.68   | -0.02   | 28.63  | 28.75    | 2590 |
| INDIA PALM OIL    | APR9   | 539.00   | -3.10  | 539.00    | 541      | 59 |
| INDIA SOYOIL      | MAY9    | 736.6   | +0.30  | 734.15    | 738    | 4140 |
| NYMEX CRUDE       | JUN9    | 65.94   | +0.39   | 65.71  | 65.95   | 29721 |
Palm oil prices in Malaysian ringgit per tonne
CBOT soy oil in US cents per pound
Dalian soy oil and RBD palm olein in Chinese yuan per tonne
India soy oil in Indian rupee per 10 kg
Crude in US dollars per barrel
(US$1 = RM4.1250)
(US$1 = 6.7126 Chinese yuan)
(US$1 = 69.7050 Indian rupees)