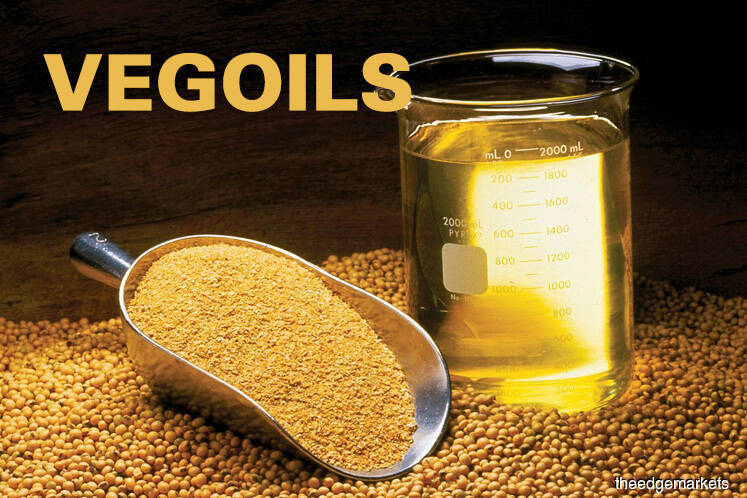 KUALA LUMPUR (Jan 25): Malaysian palm oil futures on Friday rose to its highest in nearly seven months, before giving up gains as a stronger ringgit weighed on the market.
The benchmark palm oil contract for April delivery was down 0.1% at 2,294 ringgit (US$556.46) a tonne at the close of trade on the Bursa Malaysia Derivatives Exchange, snapping five days of gains. 
It had risen earlier by 0.4% to an intraday high of 2,307 ringgit, its strongest since July 5. Palm is also up 3% for the week.
Trading volumes stood at 22,116 lots of 25 tonnes each at the end of the trading day.
"The market is reacting towards the stronger ringgit," one Kuala Lumpur-based futures trader said, adding that the market was generally bullish on rising demand.
"Demand is strong so stocks will drop, though they will still be relatively high." 
Strength in the ringgit, palm's currency of trade, usually makes the edible oil more expensive for foreign buyers. The ringgit strengthened 0.5% to 4.1225 against the dollar on Friday evening. 
Another trader estimated gains in Malaysian exports in January will be driven by Indian demand for palm olein. 
"The palm market is still on an overall uptrend," he said.
India, the world's largest importer of edible oils, this month lowered the duty on crude palm oil imports to 40% from 44%, and a tax on refined oils was trimmed to 50% from 54%. 
Malaysian shipments of refined palm oil, however, will be taxed at 45%, compared with 54% previously. 
In related oils, the Chicago March soybean oil contract rose 0.3%, while the May contract on the Dalian Commodity Exchange edged up by 0.1%.
The Dalian January palm oil contract, meanwhile, firmed by 0.2%.
Palm oil prices are affected by movements in soyoil rates, because both compete in the global vegetable oil market.
    
 Palm, soy and crude oil prices at 1040 GMT:
| | | | | | | |
| --- | --- | --- | --- | --- | --- | --- |
| Contract | Month | Last | Change | Low | High | Volume |
| MY PALM OIL | FEB9 | 2190 | -10.00 | 2186 | 2202 | 270 |
| MY PALM OIL | MAR9 | 2266 | -1.00 | 2255 | 2278 | 2598 |
| MY PALM OIL | APR9 | 2292 | -5.00 | 2288 | 2307 | 10763 |
| CHINA PALM OLEIN | MAY9 | 4778 | +8.00 | 4754 | 4786 | 333684 |
| CHINA SOYOIL | MAY9 | 5692 | +4.00 | 5662 | 5710 | 318266 |
| CBOT SOY OIL | MAR9 | 29.59 | +0.08 | 29.47 | 29.66 | 5047 |
| INDIA PALM OIL | JAN9 | 558.00 | +2.00 | 555.30 | 558.8 | 292 |
| INDIA SOYOIL | FEB9 | 767.4 | +5.15 | 763.05 | 768.5 | 7630 |
| NYMEX CRUDE | MAR9 | 53.33 | +0.20 | 53.03 | 53.94 | 132837 |
 Palm oil prices in Malaysian ringgit per tonne
 CBOT soy oil in U.S. cents per pound
 Dalian soy oil and RBD palm olein in Chinese yuan per tonne
 India soy oil in Indian rupee per 10 kg
 Crude in U.S. dollars per barrel
 
(US$1 = 4.1225 ringgit)
(US$1 = 71.1930 Indian rupees)
(US$1 = 6.7626 Chinese yuan)