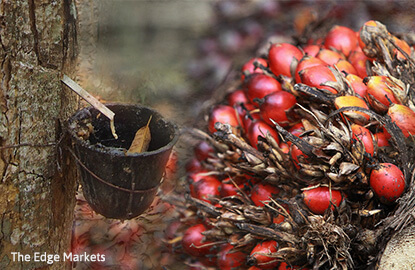 KUALA LUMPUR (March 21): Malaysian palm oil futures fell on Tuesday, hitting their lowest in three sessions and in line for a second straight day of losses, as related edible oils weakened and demand slowed.
However, the market is seen trading range-bound as output for March could be weaker than expected, traders said.     
Benchmark palm oil futures for June delivery on the Bursa Malaysia Derivatives Exchange were down 0.3% at RM2,772 (US$626.16) a tonne at the midday break.
Traded volumes stood at 20,085 lots of 25 tonnes each at the midday break on Tuesday.
"The market has both positive and negative factors keeping it in range, and uncertain on which way to break out," said a futures trader in Kuala Lumpur, referring to the stronger ringgit as an additional factor for the market's decline.
A stronger ringgit, palm's traded currency, usually makes the tropical oil more expensive for foreign-currency holders. The ringgit has gained 0.5% against the dollar since last week.
Palm oil exports from Malaysia, the world's second largest producer of the tropical oil, fell between March 1-20 compared with the same period a month ago. Cargo surveyor Intertek Testing Services reported a 3% drop, while Societe Generale de Surveillance saw a 7.9% decline.
Malaysian output fell 1.4% in February on-month, while end-stocks declined 5.3% to 1.46 million tonnes.
Palm oil remains neutral in a range of RM2,767-2,810 per tonne, said Wang Tao, a Reuters market analyst for commodities and energy technicals.
Palm also tracks the movement of other related vegetable oils, as they compete for a share in the global edible oils market.
Soybean oil on the Chicago Board of Trade slid 0.2%, while the September soybean oil contract on the Dalian Commodity Exchange fell 0.6%.
The September contract for palm olein on the Dalian Commodity Exchange dropped 0.5%.
Palm, soy and crude oil prices at 0505 GMT
| | | | | | | |
| --- | --- | --- | --- | --- | --- | --- |
| Contract          | Month    | Last  | Change     | Low   | High   | Volume |
| MY PALM OIL       | APR7     | 2944   | +5.00    | 2924   | 2949       | 32 |
| MY PALM OIL       | MAY7     | 2840   | -3.00    | 2818   | 2845     | 1802 |
| MY PALM OIL       | JUN7     | 2772   | -8.00    | 2754   | 2778    | 10650 |
| CHINA PALM OLEIN  | SEP7     | 5594  | -28.00    | 5570   | 5668   | 345300 |
| CHINA SOYOIL      | SEP7     | 6474  | -38.00    | 6460   | 6550   | 317670 |
| CBOT SOY OIL      | MAY7    | 32.67   | -0.07   | 32.59  | 32.95     | 8022 |
| INDIA PALM OIL    | MAR7   | 532.60   | -0.70  | 532.00  | 533.8      | 156 |
| INDIA SOYOIL      | APR7    | 646.2   | -2.25   | 645.8  | 646.9     | 2710 |
| NYMEX CRUDE       | APR7    | 48.36   | +0.14   | 47.93  | 48.42     | 1066 |
Palm oil prices in Malaysian ringgit per tonne
CBOT soy oil in US cents per pound
Dalian soy oil and RBD palm olein in Chinese yuan per tonne
India soy oil in Indian rupee per 10 kg
Crude in US dollars per barrel
(US$1 = RM4.4270)
(US$1 = 65.3900 Indian rupees)
(US$1 = 6.9052 Chinese yuan)