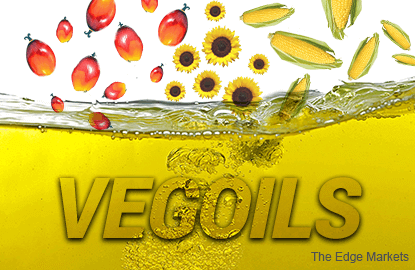 KUALA LUMPUR (Jan 27): Malaysian palm oil futures fell on Friday morning, charting a third consecutive day of declines and touching a two-week low, as output is seen rising next month and as traders booked profit ahead of a long weekend.
Bursa Malaysia will be closed for the second half of the trading day on Friday, and on Monday for the Lunar New Year celebrations.  
Benchmark palm oil futures for April delivery on the Bursa Malaysia Derivatives Exchange fell 0.5% to 3,071 ringgit (US$693.70) a tonne at the midday break. It earlier hit a low of 3,051 ringgit, weakest since Jan 16. 
Traded volumes stood at 15,868 lots of 25 tonnes each at noon.
"Investors are taking profit over the long weekend," said a trader from Kuala Lumpur.
"There are floods in Pahang and Johor, but the situation is not that bad. If there are no more heavy floods, production after Chinese New Year should pick up nicely." 
Monsoon rains across the east coast of Malaysia have impacted palm oil output by delaying harvests and affecting road accessibility.
Traders and industry players are forecasting lower production for the full month of January, due to the floods and in line with seasonal trend, as palm's fruit yields are still impacted by the lingering effects of a crop damaging El Nino weather event.
In other related edible oils, the March soybean oil contract on the CBOT was down 0.4%.
Palm oil may break a support at 3,089 ringgit per tonne and fall more towards the next support at 3,014 ringgit, according to Wang Tao, Reuters market analyst for commodities and energy technicals.
Palm, soy and crude oil prices at 0510 GMT
| | | | | | | |
| --- | --- | --- | --- | --- | --- | --- |
| Contract | Month | Last | Change | Low | High | Volume |
| MY PALM OIL | FEB7 | 3241 | +3.00 | 3216 | 3255 | 206 |
| MY PALM OIL | MAR7 | 3135 | -13.00 | 3112 | 3136 | 1147 |
| MY PALM OIL | APR7 | 3071 | -16.00 | 3051 | 3073 | 7113 |
| CHINA PALM OLEIN | MAY7 | 0 | +0.00 | 0 | 0 | 0 |
| CHINA SOYOIL | MAY7 | 0 | +0.00 | 0 | 0 | 0 |
| CBOT SOY OIL | MAR7 | 34.34 | -0.13 | 34.26 | 34.52 | 2518 |
| INDIA PALM OIL | JAN7 | 593.90 | -3.30 | 592.30 | 595 | 104 |
| INDIA SOYOIL | FEB7 | 707.75 | -9.20 | 704.1 | 710.85 | 10330 |
| NYMEX CRUDE | MAR7 | 53.82 | +0.04 | 53.69 | 53.88 | 10785 |
Palm oil prices in Malaysian ringgit per tonne
 CBOT soy oil in U.S. cents per pound
 Dalian soy oil and RBD palm olein in Chinese yuan per tonne
 India soy oil in Indian rupee per 10 kg
 Crude in U.S. dollars per barrel
    
(US$1 = 4.4270 ringgit)
(US$1 = 68.1799 Indian rupees)
(US$1 = 6.8768 Chinese yuan)