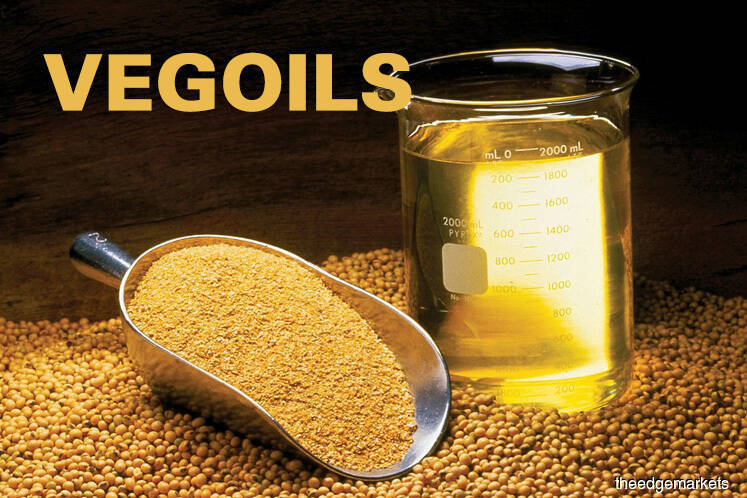 KUALA LUMPUR (April 11): Malaysian palm oil futures edged lower in range-bound trading on Thursday, weighed down by expectations of rising production.
The benchmark palm oil contract for June delivery on the Bursa Malaysia Derivatives Exchange was down 0.2% at RM2,165 (US$526.12) a tonne at the midday break; poised for a second session of declines.
The market had dropped as much as 2% in the previous session as official data from the Malaysian Palm Oil Board (MPOB) showed March end-stocks and production at higher levels than expected.
The MPOB data showed end-stocks dropped 4.6% to 2.92 million tonnes from February, while output rose 8.3% to 1.67 million tonnes on-month.
"Players are digesting April's supply and demand after Wednesday's selloff on higher-than-expected MPOB stocks. The market is stuck on a mixed view," said a Kuala Lumpur-based trader.
"However, I think we are seeing a lower market on a higher April production outlook."
Meanwhile, Malaysian palm oil exports during the April 1-10 period rose from the corresponding period last month by 6.2% and 12.6%, according to Amspec Agri Malaysia and Intertek Testing Services respectively.
In other related oils, Chicago May soybean oil contract was down 0.3%, and the May soyoil contract on the Dalian Commodity Exchange slipped 0.1%.
Meanwhile, the Dalian May palm oil contract declined 0.6%.
Palm oil prices are affected by movements in soyoil, as they compete for a share in the global vegetable oil market.
Palm, soy and crude oil prices at 0512 GMT
| | | | | | | |
| --- | --- | --- | --- | --- | --- | --- |
| Contract          | Month    | Last  | Change     | Low   | High  | Volume |
| MY PALM OIL       | APR9        | 0   | +0.00 | 0 | 0 | 0 |
| MY PALM OIL       | MAY9     | 2125   | -4.00    | 2122   | 2144     | 744 |
| MY PALM OIL       | JUN9     | 2165   | -5.00    | 2163   | 2180    | 7810 |
| CHINA PALM OLEIN  | MAY9     | 4462  | -28.00    | 4440   | 4474   | 66234 |
| CHINA SOYOIL      | MAY9     | 5450   | -4.00    | 5430   | 5462   | 48586 |
| CBOT SOY OIL      | MAY9    | 28.99   | -0.08   | 28.97  | 29.06    | 2031 |
| INDIA PALM OIL    | APR9   | 533.50   | -2.30  | 533.50  | 536.9      | 31 |
| INDIA SOYOIL      | APR9        | 0   | +0.00   | 0 | 0 | 0 |
| NYMEX CRUDE       | MAY9    | 64.27   | -0.34   | 64.22  | 64.49   | 24507 |
Palm oil prices in Malaysian ringgit per tonne
CBOT soy oil in US cents per pound
Dalian soy oil and RBD palm olein in Chinese yuan per tonne
India soy oil in Indian rupee per 10 kg
Crude in US dollars per barrel
(US$1 = RM4.1150)
(US$1 = 6.7116 Chinese yuan)
(US$1 = 69.0000 Indian rupees)