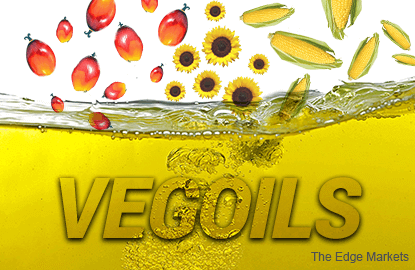 KUALA LUMPUR (March 13): Malaysian palm oil futures fell for a third consecutive session to reach the weakest level in more than four months, tracking declining soyoil on Monday evening. 
Benchmark palm oil futures for May delivery on the Bursa Malaysia Derivatives Exchange dropped 1.7% at 2,723 ringgit (US$612.60) a tonne by the end of the trading day. It earlier fell to 2,717 ringgit, its lowest since Nov 2. 
Palm shed more than 3% last week, its biggest single-day drop in three weeks on Friday, due to weakness in rival soyoil and poor demand. 
Traded volumes stood at 65,176 lots of 25 tonnes each on Monday evening.
"Palm fell as soybean oil is cheap," said a palm oil trader, rendering soyoil more competitive in relation to the tropical oil.
Palm oil prices are impacted by the movements of related oils, including soyoil, as they compete for a share in the global vegetable oils market. 
In related vegetable oils, soybean oil on the Chicago Board of Trade was down 0.4%, while the May soybean oil contract on the Dalian Commodity Exchange fell 0.2%. 
The May contract for palm olein on the Dalian Commodity Exchange was up 0.7%.
The market was in positive territory earlier, supported by indications that March output was down, while technical buying also lifted the market, said another trader.    
Data from industry regulator the Malaysian Palm Oil Board (MPOB) showed that production in February fell 1.4% to 1.26 million tonnes, its lowest since March 2016, and its fifth consecutive monthly decline.
February inventories also fell to a six-year low of 1.46 million tonnes, down 5.3% on month. 
Output in Malaysia, the world's second largest palm producer after Indonesia, is seen recovering this year from the dry weather effects of a crop-damaging El Nino. Leading analysts at an industry conference last week expected that prices would drop to levels around 2,500 ringgit by mid-year, on a recovery in production.
Palm oil may revisit its Feb 28 low of 2,723 ringgit, as its downtrend from the Jan 18 high of 3,175 ringgit per tonne could have resumed, said Wang Tao, a Reuters market analyst for commodities and energy technicals.
Palm, soy and crude oil prices at 1033 GMT
| | | | | | | |
| --- | --- | --- | --- | --- | --- | --- |
| Contract | Month | Last | Change | Low | High | Volume |
| MY PALM OIL | MAR7 | 2975 | -40.00 | 2975 | 3000 | 663 |
| MY PALM OIL | APR7 | 2796 | -50.00 | 2796 | 2883 | 2031 |
| MY PALM OIL | MAY7 | 2720 | -48.00 | 2717 | 2806 | 30785 |
| CHINA PALM OLEIN | MAY7 | 5820 | +42.00 | 5740 | 5824 | 387988 |
| CHINA SOYOIL | MAY7 | 6436 | -12.00 | 6408 | 6462 | 305690 |
| CBOT SOY OIL | MAY7 | 32.55 | +0.00 | 32.53 | 32.94 | 8398 |
| INDIA PALM OIL | MAR7 | 0.00 | +0.00 | 0.00 | 0 | 0 |
| INDIA SOYOIL | MAR7 | 0 | +0.00 | 0 | 0 | 0 |
| NYMEX CRUDE | APR7 | 48.10 | -0.39 | 47.90 | 48.54 | 121463 |
 Palm oil prices in Malaysian ringgit per tonne
 CBOT soy oil in U.S. cents per pound
 Dalian soy oil and RBD palm olein in Chinese yuan per tonne
 India soy oil in Indian rupee per 10 kg
 Crude in U.S. dollars per barrel
 
(US$1 = 4.4450 ringgit)
(US$1 = 66.1400 Indian rupees)
(US$1 = 6.9088 Chinese yuan)