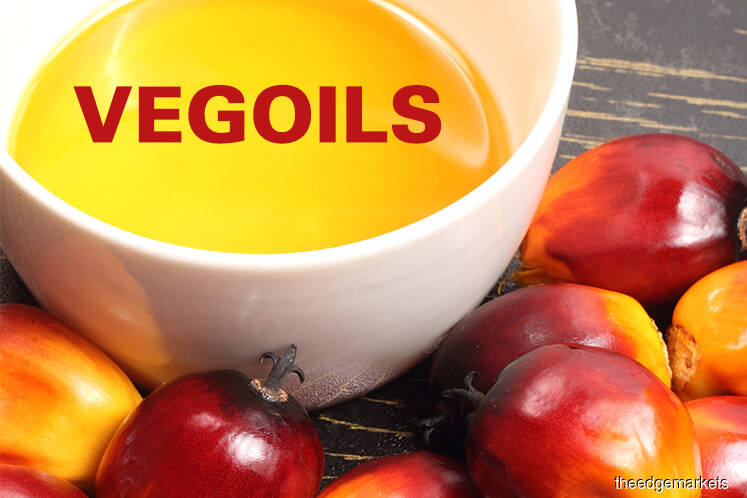 KUALA LUMPUR (Nov 1): Malaysian palm oil futures rose on Wednesday tracking crude oil gains, but traders said the higher prices were not sustainable due to expectations of strong production numbers for October.
On the Bursa Malaysia Derivatives Exchange the benchmark palm oil contract for January delivery closed up 0.8% at RM2,837 (US$670.69) a tonne.
Traded volumes stood at 49,122 lots of 25 tonnes each at the break on Wednesday.
Crude oil prices rose to their highest level since mid-2015 on Wednesday as data showed OPEC members have significantly improved compliance with its supply cuts deal and Russia is also widely expected to comply.
Palm oil's price direction is influenced by crude oil as the vegetable oil is used as a blending component for biodiesel as a substitute for refined crude oil products.
Traders said higher crude prices supports the rise in soy oil and has boosted palm. Prices of palm oil are impacted by movements in related oils, as they compete for a share in the global vegetable oils market.
The December soybean oil contract on the CBOT gained 0.4%.
Production in the first 20 days of October rose 10.5% from a month earlier, data from the Malaysian Palm Oil Association (MPOA) showed, and a futures trader from Kuala Lumpur said the monthly growth could be even higher.
Expectations of better production figures are keeping buyers at bay, said the trader, adding that: "Therefore, we're not expecting this upside to continue."
The MPOA is expected to release October production figures around Nov. 6-7, according to the trader.
The market is also waiting for industry forecasts from the Indonesian Palm Oil Conference, scheduled to be held in Bali on Nov. 2-3, for further cues, said another trader.
Top industry analysts James Fry, Thomas Mielke and Dorab Mistry are scheduled to speak at the conference and give their outlook on prices.
Among other related edible oils, the January soybean oil contract on the Dalian exchange was 0.4% lower, while the January palm olein contract was down 1.26%.
Meanwhile, exports of Malaysian palm oil for October rose 2.3% to 1,416,664 tonnes from 1,384,665 tonnes shipped during September, cargo surveyor Societe Generale de Surveillance said on Tuesday.
Another cargo surveyor, Intertek Testing Services, said on Tuesday that exports of Malaysian palm oil rose 2.5% in October to 1,406,706 tonnes.
Palm, soy and crude oil prices at 1035 GMT
| | | | | | | |
| --- | --- | --- | --- | --- | --- | --- |
| Contract | Month | Last | Change | Low | High | Volume |
| MY PALM OIL | NOV7 | 2803 | +13.00 | 2781 | 2810 | 179 |
| MY PALM OIL | DEC7 | 2816 | +23.00 | 2786 | 2818 | 2084 |
| MY PALM OIL | JAN8 | 2837 | +22.00 | 2802 | 2838 | 26258 |
| CHINA PALM OLEIN | JAN8 | 5654 | -72.00 | 5642 | 5738 | 314428 |
| CHINA SOYOIL | JAN8 | 6102 | -24.00 | 6094 | 6142 | 246554 |
| CBOT SOYOIL | DEC7 | 34.88 | +0.13 | 34.64 | 34.94 | 13111 |
| INDIA PALM OIL | NOV7 | 543.30 | +1.20 | 538.20 | 544 | 1727 |
| INDIA SOYOIL | NOV7 | 678.8 | +2.35 | 674.6 | 680 | 14020 |
| NYMEX CRUDE | DEC7 | 55.02 | +0.64 | 54.55 | 55.22 | 118772 |
Palm oil prices in Malaysian ringgit per tonne
CBOT soy oil in US cents per pound
Dalian soy oil and RBD palm olein in Chinese yuan per tonne
India soy oil in Indian rupee per 10 kg
Crude in US dollars per barrel
(US$1 = RM4.2300)
(US$1 = 64.5875 Indian rupees)
(US$1 = 6.6101 Chinese yuan renminbi)