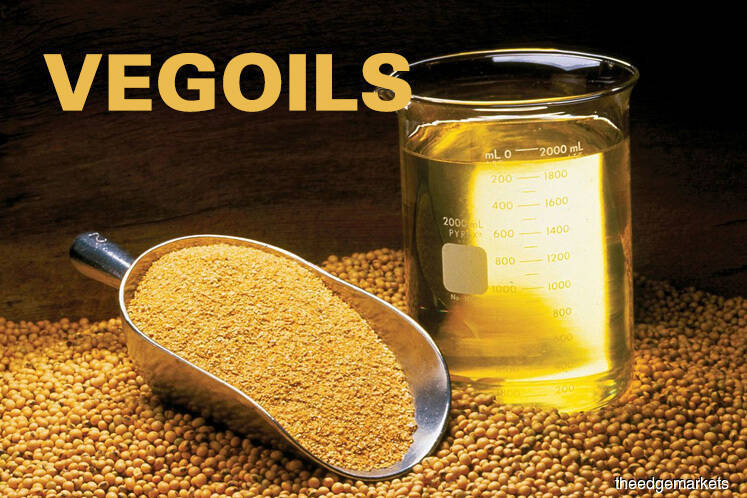 KUALA LUMPUR (April 17): Malaysian palm oil futures extended gains to a fresh one-week high in early trade on Wednesday, in line for a second winning session, on the back of a weaker ringgit.    
The benchmark palm oil contract for July delivery on the Bursa Malaysia Derivatives Exchange rose 1% to RM2,194 (US$529.70) a tonne at the midday break, after earlier reaching a one-week top of RM2,199.
In its previous trading session, it had fallen to a two-week low of RM2,139.
"The continuous depreciation of the local currency is likely to have palm prices climbing," said a futures trader based in Kuala Lumpur, as the ringgit is palm's traded currency.
A weaker ringgit would make palm oil cheaper for foreign buyers. It depreciated against the dollar during the first half of trade on Tuesday, and was last down 0.3% at 4.1430, its weakest levels in nearly three months.
In other related oils, the Chicago May soybean oil contract gained 0.2%, and the May soyoil contract on the Dalian Commodity Exchange was slightly up 0.04%.
Meanwhile, the Dalian May palm oil contract rose 0.3%.
Palm oil prices are affected by movements in soyoil, as they compete for a share in the global vegetable oil market.
Palm, soy and crude oil prices at 0500 GMT
| | | | | | | |
| --- | --- | --- | --- | --- | --- | --- |
| Contract          | Month   | Last  | Change     | Low    | High   | Volume |
| MY PALM OIL       | MAY9    | 2129  | +24.00    | 2119    | 2129      | 263 |
| MY PALM OIL       | JUN9    | 2177  | +22.00    | 2161    | 2182     | 2312 |
| MY PALM OIL       | JUL9    | 2194  | +21.00    | 2180    | 2199     | 5848 |
| CHINA PALM OLEIN  | MAY9    | 4442  | +14.00    | 4424    | 4466    | 37744 |
| CHINA SOYOIL      | MAY9    | 5398   | +2.00    | 5386    | 5410    | 37080 |
| CBOT SOY OIL      | MAY9   | 28.77   | +0.05   | 28.71   | 28.79     | 1271 |
| INDIA PALM OIL    | APR9    | 0.00   | +0.00    | 0.00 | 0 | 0 |
| INDIA SOYOIL      | MAY9   | 718.5   | -3.85   | 717.5  | 723.05    | 16870 |
| NYMEX CRUDE       | MAY9   | 64.45   | +0.40   | 64.23   | 64.54    | 18129 |
Palm oil prices in Malaysian ringgit per tonne
CBOT soy oil in US cents per pound
Dalian soy oil and RBD palm olein in Chinese yuan per tonne
India soy oil in Indian rupee per 10 kg
Crude in US dollars per barrel
(US$1 = RM4.1420)
(US$1 = 6.7012 Chinese yuan)
(US$1 = 69.5460 Indian rupees)