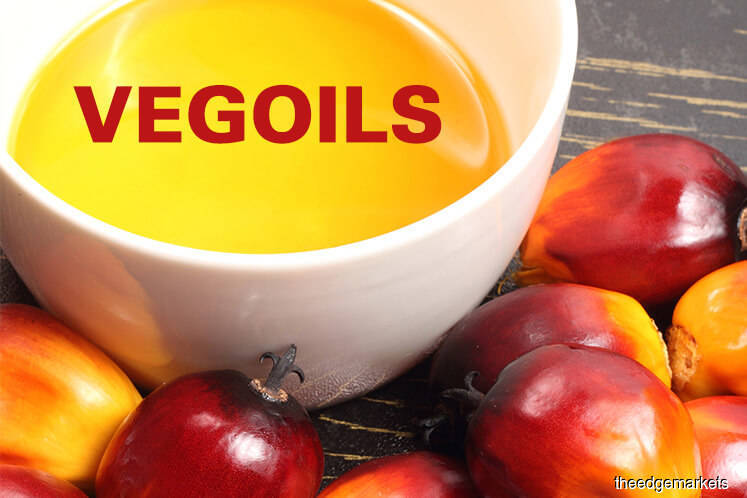 KUALA LUMPUR (Jan 30): Malaysian palm oil futures rose on Wednesday, recovering from their largest fall in two weeks in the previous session, as expectations of better export data lifted market sentiment.
The benchmark palm oil contract for April delivery on the Bursa Malaysia Derivatives Exchange climbed 0.35% to RM2,302 (US$560.51) a tonne.
Trading volumes stood at 32,647 lots of 25 tonnes each.
The futures contract rose to its highest in nearly seven months, supported by related edible oil prices on Monday, and charted a sixth session of gains in seven. It then fell 1.4% on Tuesday, recording the largest decline in two weeks.
"The market is expecting strong exports for January," said a futures trader from Kuala Lumpur, pointing to talk of favourable export data among traders.
"The market will likely continue to range here in anticipation of the long holiday," another Kuala Lumpur-based trader said. Malaysian markets will be closed on Feb 5-6 for the Lunar New Year celebrations.
There is also better demand in palm oil contracts for February and March delivery, supported by higher pricing in Indonesia, the trader added.
"Stocks in Indonesia seem to have been decreasing since December," he said.
Palm oil may slide further into a range of RM2,256-2,274 per tonne, following its failure to break a resistance at RM2,322, Wang Tao, a Reuters market analyst for commodities and energy technicals said.
In other related oils, the Chicago March soybean oil contract was up 0.27%.
The May soybean oil contract on the Dalian Commodity Exchange was down 0.45%, while the Dalian May palm oil contract fell 0.5%.
Palm oil prices are affected by movements in soyoil rates, as they compete for a share in the global vegetable oil market.
Palm, soy and crude oil prices at 1040 GMT:
| | | | | | | |
| --- | --- | --- | --- | --- | --- | --- |
| Contract      | Month    | Last  | Change     | Low    | High   | Volume |
| MY PALM OIL   | FEB9     | 2202   | +8.00    | 2180    | 2218      | 519 |
| MY PALM OIL   | MAR9     | 2270   | +6.00    | 2245    | 2285     | 3802 |
| MY PALM OIL   | APR9     | 2302   | +8.00    | 2277    | 2317    | 15461 |
| CHINA PALM OLEIN   | MAY9     | 4802  | -24.00    | 4760    | 4816   | 454642 |
| CHINA SOYOIL  | MAY9     | 5762  | -26.00    | 5740    | 5796   | 367148 |
| CBOT SOY OIL  | MAR9    | 30.18   | +0.07   | 30.08   | 30.24     | 4591 |
| INDIA PALM OIL    | JAN9   | 562.90   | +2.00  | 556.40     | 563      | 240 |
| INDIA SOYOIL  | FEB9   | 773.45   | +2.30   | 771.2   | 774.4     | 5750 |
| NYMEX CRUDE   | MAR9    | 53.58   | +0.27   | 53.09   | 53.70   | 112886 |
Palm oil prices in Malaysian ringgit per tonne
CBOT soy oil in US cents per pound
Dalian soy oil and RBD palm olein in Chinese yuan per tonne
India soy oil in Indian rupee per 10 kg
Crude in US dollars per barrel
(US$1 = RM4.1070)
(US$1 = 71.24 Indian rupees)
(US$1 = 6.7131 Chinese yuan)