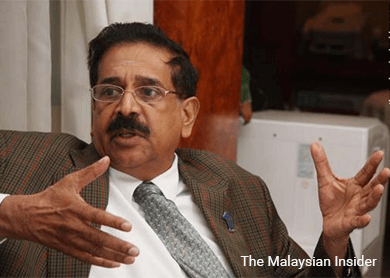 (June 25): Datuk Seri G. Palanivel today said he had not received any notification from the Registrar of Societies (RoS) informing him that he was no longer a member of the party.
He said that although he was aware of such a claim by his rival Datuk Seri S. Subramaniam, it still remained unconfirmed.
"I have heard about it. This is not confirmed news. And neither have I received any such letter," he told a press conference after chairing an emergency meeting of the central working commi?ttee (CWC) in Putrajaya today.
This is the CWC elected in November 2013, in polls which are now the subject of dispute between factions led by Palanivel and Subramaniam, respectively.
He also called Subramaniam "crazy" for appointing himself the acting president, despite there being a party chief.
"How can he declare himself president? I am the president. Dia sudah gila (He is crazy)," Palanivel added.
?He also said that he had met Prime Minister Datuk Seri Najib Razak today during the weekly Cabinet meeting and had informed Najib, who is also Barisan Nasional chairman, of his plan to elections for MIC.
"Yes, I met the PM on Wednesday, gave him a letter to tell him about the mechanism of our election?.
"However, this has not been finalised yet. Hopefully, the PM will agree."
Earlier today, Subramaniam said Palanivel has lost his party membership, as stated in a letter by RoS addressed to the 2009 CWC.
?"RoS in a letter addressed to CWC 2009 today has recognised that Datuk Seri G. Palanivel is no more a member of the MIC as per Article 91 of the MIC constitution," Subramaniam said in a statement.
"RoS has also recognised that consequent to this that Datuk Seri Dr S. Subramaniam will function in the capacity of acting president to lead the CWC 2009 to conduct the re-elections of the MIC as per the RoS decision."
Subramaniam and Palanivel have been in a dispute over MIC's leadership after contentious party elections in November 2013, the results of which RoS nullified and ordered re-elections.
Palanivel and four others in the party took legal action against RoS, and today failed to obtain an interim stay against a court ruling which upheld RoS's directive for re-elections.
Subramaniam had also declared Palanivel no longer a member, citing MIC's constitution on members who seek legal action against the party.
Following the two-hour meeting with 19 out of the 32 2009 CWC members, Palanivel said that three resolutions were passed, including one that dismissed the usage of Article 91 of the MIC constitution to strip him of his presidency.
He said Article 91 only prevented any member from going to court to challenge the party's CWC on his rights, obligations, duties and privileges.
"As such, article 91 does not come into effect here because a dispute with the RoS under the Society Act falls outside the Constitution of the Congress," he said.?
Meanwhile, MIC vice-president Datuk S. Sothinathan said RoS could come up with any ruling but Palanivel would continue as president pending a legal action against the body.
"We will fight on for justice. It's not surprising to us if indeed this is true because of the way RoS has been treating us." – The Malaysian Insider