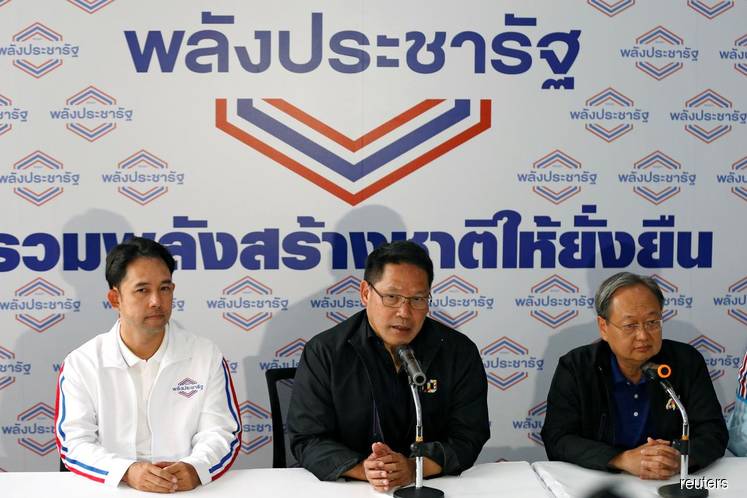 BANGKOK (May 9): The pro-military Palang Pracharat Party (PPRP) is in talks to look for coalition partners in forming the next Thai government.  
PPRP leader Uttama Savanayana said talks and negotiations are still on-going including with smaller parties. However, he did not reveal the names.
"We have yet to finalise the formation of a new government... we will inform (new coalition government) when the time comes.
"We are confident of forming the next Government with more than 250 seats of the 500-seats in the House of Representative," he told a media conference here today.
Yesterday, Thailand's Election Commission announced the long-delayed results of the March 24 general election but there was no winner to form the next government.
Pheu Thai Party, the party linked to ousted Prime Minister Thaksin Shinawatra won 136 seats in the 500-House of Representatives while Palang Pracharat came in second with 115 seats, Future Forward Party (80), Democrat (52) and Bhumjaithai (51).
However local media reported that General Prayuth Chan-o-cha who had backed PPRP is likely to remain as the Prime Minister as the party is expected to be joined by Democrat and Bhumjaithai as well as other smaller parties.
Meanwhile, Bhumjaithai leader Anutin Charnvirakul denied there were deals to form a coalition government with minister posts.
"We will listen to the voices of the people," he said in a message posted on his Facebook page.
As for Democrat Party, acting executive committee member Rames Rattanachaweng said the party's stand remains unclear till the next party leader and executive members are elected in the party's general assembly on May 15.
"The elected new leader and executive members will discuss various issues including the party's stand whether to join PPRP," he said.
To elect the new Prime Minister, the pro-junta and Democratic Front need a majority of 376 votes in the combined House and Senate vote.
The PPRP is in a favourable position as the 250 Senate members are handpicked by the junta.
By this, the pro-junta party needs only a few more votes to hit the magic number of 376 while the Democratic Front is falling far short.