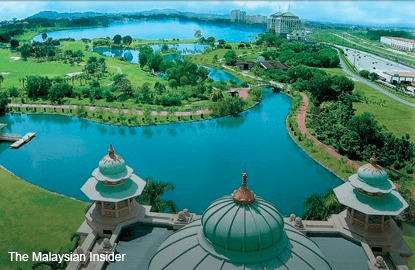 KUALA LUMPUR (Dec 16): Country Heights Holdings Bhd (CHHB), which has been reporting nett losses for the past three financial quarters, is making an effort to revive its two hotels — Palace of the Golden Horses (POGH) and Mines Wellness Hotel, in Mines Resort City, Seri Kembangan, Selangor, The Edge Malaysia weekly reported.
With a bleak prospect for the property sector and the hospitality segment showing signs of a slowdown, CHHB has initiated steps to improve its hospitality business in an attempt to improve its earnings prospects amid rising competition and dwindling tourist arrival numbers.
POGH and Mines Wellness Hotel will be managed by different hotel management firms.
Group CEO Dianna Lee tells The Edge that things are not looking rosy for the group. "(It is) very bad. We are planning for the worst but hoping for the best," she said.
Last Wednesday, the group announced to Bursa Malaysia that it was entering into a joint-venture agreement with Galaxus Corp Sdn Bhd and Tan Sri Lee Kim Yew, founder of CHHB, to revamp the management and business of POGH through a company called Stallion Management Sdn Bhd.
CHHB will have a 69% stake in Stallion while Galaxus and Kim Yew will hold 30% and 1% respectively.
A search on the Companies Commission of Malaysia's website shows that the shareholders of Galaxus are Ng Cheng Sinn and Irene Quek, who each hold a 50% stake. The duo are also directors of the company, which has been described as having its principal activity in information technology.
Through this new partnership, CHHB hopes to be able to seek strategic partners to expand its hotel business, raise funds for expansion and secure — on a best-effort basis — at least five more hotels in Asia to be managed as part of its business.
Meanwhile, Mines Wellness Hotel has been leased out on a long-term basis to a third party — Philea Mines Beach Resort Sdn Bhd — which will rebrand and operate the hotel, and pay CHHB a regular rent for the asset. The hotel will be rebranded as Philea Mines Beach Resort.
The hotel is currently undergoing extensive renovation, in stages, prior to the rebranding. Its makeover is estimated to cost RM10 million, which will be borne by Philea Mines.
As the hotel only occupies 260,000 sq ft of space, the surrounding 9.25 acres is available for development. "It is still in the planning stage at the moment," says Lee. The developer has 5,600 acres of landbank and the gross development value of its launched and on-going projects is around RM660 million.
When asked if the Traditional Chinese Medicine Centre (TCM) had to vacate the premises due to the new management company, Lee says it was a mutual decision. She adds that the move had already been on the cards as the existing capacity is too small. Once the TCM moves, the hotel will be expanding its hotel services and the Cheng Ho restaurant.
Philea Mines will continue employing the existing hotel staff of Mines Wellness Hotel and it will also continue with the wellness component.
CHHB has several membership programmes, with the core ones being Palace Vacation Club — a timeshare membership programme — and GHHS Healthcare.
The latter, Lee says, has introduced a revolutionary and flexible preventive healthcare membership called the Health United PLUS. Members are provided with integrated health solutions, in addition to prescribed holidays and detox camps to help tackle stress.
POGH has 472 guest rooms and 72 suites while Mines Wellness Hotel has 124 rooms.