This article first appeared in The Edge Financial Daily, on May 9, 2019.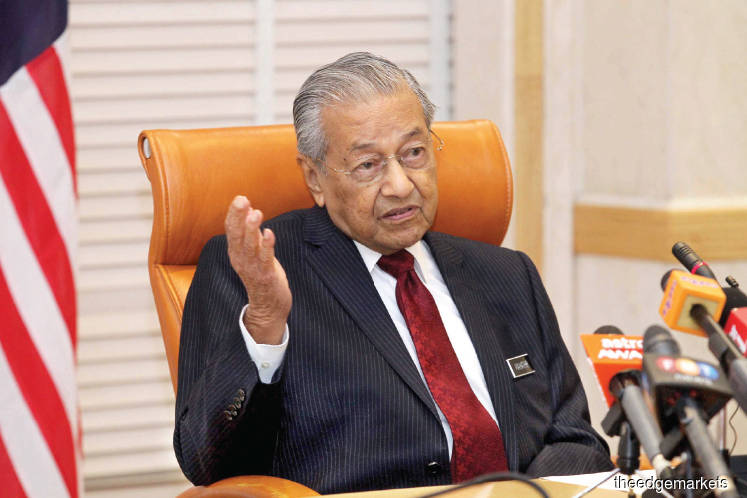 Dr Mahathir: The people don't complain so much about corruption. The people are getting their approvals much more quickly than before. That, to us, is also an achievement. Photo by Kenny Yap
KUALA LUMPUR: Prime Minister Tun Dr Mahathir Mohamad, one of the oldest living leaders in the world today, said he feels "as strong as I could be at the age of 93" when asked if leading the Pakatan Harapan government the past one year had exhausted him during a special interview on Monday, which coincided with the first day of the Ramadan fasting month.
"Not many people at the age of 93 can even think. I think I'm still able to answer your nasty questions. I don't think I'm worse than [US President Donald] Trump. I don't think I'm worse than the British leaders, or the French leaders who have to deal with the yellow shirts, or the Spanish leaders who have to deal with secession, and all those other leaders.
"By comparison, I don't think I've done so badly. Can you tell me which leader has done better than me?" he quipped, drawing chuckles from the room as he took questions from reporters during the interview that was arranged ahead of the first anniversary of the Pakatan government today.
He was clearly unconcerned about his supposedly falling approval rating, which came in at just 46% in March, based on a Merdeka Centre survey, compared with the 71% recorded at end-May last year, while Pakatan's rating plummeted to 39% from 79%. Instead, he made a jibe at the pollster which previously predicted that Pakatan would not win in the last general election.
"They thought we would lose, and there were so many things they found through their surveys which were quite wrong. But they are entitled to make their estimates," said Dr Mahathir, who was ranked early this month as the world's 47th greatest leader by Fortune magazine.
But was the rating that the Merdeka Centre poll garnered a fair assessment? "I don't know. What I do know is that the people are not shooting at me or taking potshots at me, except for the press. The press must — that's their duty and I appreciate that. I like to be told where I'm wrong, where I'm weak, so I can correct myself," said the man, who was previously criticised as an autocratic leader during his first stint as the prime minister between 1981 and 2003.
Having said that, he thinks Pakatan is doing "quite well", considering that the coalition never thought it would be in government a year ago, even as it struggles to fulfil some of its election promises, like the abolition of tolls which he reiterated that Putrajaya is now finding it "very difficult" to implement as the promise was made without full knowledge of the costs and damages involved. Doing away with the death penalty is another promise that Pakatan has yet to deliver, he noted.
Notwithstanding those promises, he said Pakatan has achieved much too, like removing openly corrupt people and taking legal actions against them, and insisting that the rule of law be followed. Renegotiating with China to reduce the cost of the East Coast Rail Link (ECRL) by over RM21 billion is also a notable achievement, as well as the resolution of what he termed the "Bandar Malaysia problem" that paved the way for its revival.
To critics who said Putrajaya has only repackaged some of Barisan Nasional's (BN) initiatives, he said: "The fact is that the previous government tried to do what the previous government did, and they failed. We will do it the proper way, not through corruption, not through giving contracts to cronies, [and] not by asking contract prices to be hiked in order to take money. Those were the things they did," he said.
Pointing to the ECRL project, he said the contract was "very, very bad" because it was given to a Chinese company and all payments were made in China. "We can't even tax [the profits made]. [Now] we go back to proper practices ... we do due diligence before we enter into any contracts. So it's not right to say we're doing what the previous government did," he added.
He also personally finds it an achievement that the coalition, deemed "fragile" by many in the past, has stayed together and continued to work together. The fact that his colleagues have accepted him — a person whom they previously ran down — as the leader, a post which he continues to hold, is another achievement.
'Buying support is bribery'
As for the manifesto promises, one objective he highlighted that Pakatan has achieved is fighting corruption in the government. "The people don't complain so much about corruption. The people are getting their approvals much more quickly than before. That, to us, is also an achievement. The people are quite happy to have us. That is something we value," he said.
But, ironically, the anti-graft platform, which helped Pakatan wrest power from BN on May 9, 2018, has caused a deterioration of support for Pakatan, mainly among those who used to be on the take as well as those who were used to getting free money from the government, Dr Mahathir said.
"The previous government used to give money to all kinds of groups. [For example,] fishermen got paid RM300 a month even if they didn't catch fish. Bachelors got RM450 a month. BR1M (Bantuan Rakyat 1Malaysia) gave money also ... if we practise this, we will be just as corrupt [as the previous government]. To buy support with money, that's bribery. We can't do that and we don't have the money to do that because we don't steal money," he said.
Changing the mentality of those used to getting bribes is difficult, he said. "But we are going to make the people feel it is normal for them not to be supported by [such] money. We will try to improve their pay ... after some time, I think the people will begin to appreciate [this]. The public certainly should appreciate [it] because now they don't have to pay extra money to corrupt officers," he said.
The government, he said, is also looking at helping the people change the way they make money and to raise their income level. For example, the government is looking into the complaint that it is not doing anything to help farmers suffering from low palm oil prices.
"We have been doing the wrong thing — that's why they're in trouble. The British planted oil palm and rubber trees, but they did that on a big scale — 10,000, 20,000 acres — and [the plantations] were professionally managed, so they made money. Here, we have two acres of land, we plant oil palm and expect to be millionaires. You will not be," he said.
The only way to turn a profit, he said, is to amalgamate smaller plots into bigger ones. "We have many ideas about how to change, but it will take time." There is also resistance as some farmers view their plots as family inheritance, he said.
"So, selling the idea is a problem, but we're sure we can [do it]. This country imports RM60 billion [worth] of food every year and most can be grown here, but we don't because we only see palm oil and rubber. You can't eat rubber. When rubber price goes down, you cry and ask what the government is doing. When you lose money, the government must make you profitable again by giving you money. That was what [Datuk Seri] Najib [Razak] did. That's not the way," Dr Mahathir said, referring to his predecessor. The same, he said, had been done to artificially prop up household incomes.
"Our way is to change the way they make money. They must do business. They must farm in the modern way; they must have bigger farms. All these things are being worked out by the government," he said.