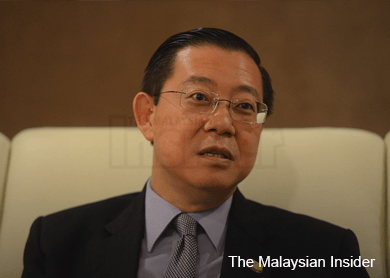 KUALA LUMPUR: DAP's top leadership has declared that Pakatan Rakyat has ceased to exist, and said it would only work with PKR and "other forces" to end Barisan Nasional's hold on federal power.
Its secretary-general Lim Guan Eng said the party's central executive committee, its highest decision-making body resolved at a meeting on Monday night to accept the motion by PAS at its muktamar or annual congress recently to sever ties with DAP.
"Effectively … Pakatan Rakyat ceases to exist," Guan Eng said in a statement yesterday.
DAP's decision comes as PKR president Datuk Seri Dr Wan Azizah Wan Ismail, who is opposition leader, is still holding out hope that the crumbling pact can be revived.
On Monday, she said there was an urgent need to review the working relationship between PAS, DAP and PKR to save Pakatan.
She called for continuous discussions and solidarity in political cooperation. 
PKR was due to decide on Pakatan's future in a political bureau meeting last night, said its secretary-general Rafizi Ramli.
He said in a statement that the meeting would be held at 8.30pm at the party's headquarters in Petaling Jaya to discuss DAP's stand.
But Guan Eng said yesterday that since Pakatan was founded based on consensus among the three parties, and was bound by the common policy framework, the PAS' muktamar motion had effectively killed off the pact.
He said DAP would now support Selangor Menteri Besar Mohamed Azmin Ali in "reframing" the Pakatan-led state government. Mohamed Azmin is PKR deputy president.
"The immediate effect on the Selangor state government will be DAP's support for the leadership of Azmin to reframe the state government with a new functioning coalition based on the PR (Pakatan Rakyat) common policy and the Selangor PR 2013 general election manifesto that received an overwhelming mandate of more than 60% of the popular vote," said Guan Eng, who is Penang chief minister.
In the Penang government, Guan Eng had already challenged PAS representatives in the state government and its agencies to resign following PAS' motion to cut ties with his party.
Two PAS leaders, Mohamad Sabu and Datuk Dr Mujahid Yusof Rawa, did so while the state government yesterday removed Penang PAS secretary Mohd Fadzil Kemi, who was an information officer in the Chief Minister's Office. On Monday, PAS' whip in the Penang Island City Council Mohd Nasir Yahya also tendered his resignation.
Pakatan was formed in April 2008 following the 12th general election that year, after the three parties collectively won more than one-third of the parliamentary seats and five states. — The Malaysian Insider
This article first appeared in The Edge Financial Daily, on June 17, 2015.