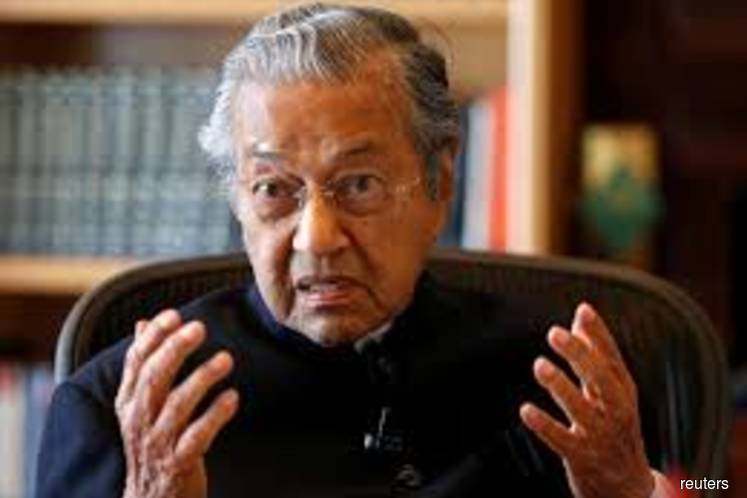 PETALING JAYA (April 17): The Election Commission (EC) has rejected a request from Parti Pribumi Bersatu Malaysia (PPBM) for a meeting to discuss the party's provisional deregistration and other matters.
PPBM chairman Tun Dr Mahathir Mohamad said this at a press conference at the party's headquarters today, after the party received a letter from the EC's legal adviser Azizan Md Arshad, saying he could not currently organise a meeting with PPBM, due to his tight schedule.
Mahathir said PPBM had submitted the request to the EC to discuss the deregistration order issued by the Registrar of Societies (RoS) earlier this month and other matters, including the party's decision to contest the May 9 general election under the PKR banner and logo.
"We have decided to contest under [the] PKR logo, and EC has said that does not require approval from them. But based on our experience with the government, changes may happen in the last minute. So we tried to meet EC, but our request has been rejected," he said.  
The EC merely told the party that "they don't have time, all their time is occupied", Mahathir added. 
"This is not the right way of operating a government, they have to facilitate the election so that it is undertaken in a smooth manner," he said.
"EC also asked us to wait for their official statement. So we can only wait. Maybe three seconds before nomination day (April 28), they will give us a response, just like the announcement of deregistering PPBM, which was done after the parliament meeting ended," he added.
Mahathir said Pakatan Harapan, the opposition coalition comprising PPBM, PKR, DAP and Parti Amanah Negara, has a contingency plan in place should there be additional hurdles like a ban on the use of a single logo by all Pakatan components.
"We will use one single symbol despite candidates coming from different parties. Of course there is contingency plan, but I cannot tell you now, because (Barisan Nasional chairman and caretaker prime minister) Datuk Seri Najib Razak will know. He has been following me around. Wherever I went, he will visit with gifts to the place," Mahathir said.
"In Langkawi for example, once I went there and announced that I am contesting the constituency, there were handouts as well, and our opponent was trying to buy out our people.
"But this other day, one of my supporters came to me and said he got money from our opponent, and donated the money to Pakatan. So to a certain extent, we are partly financed by these handouts as well," Mahathir added.