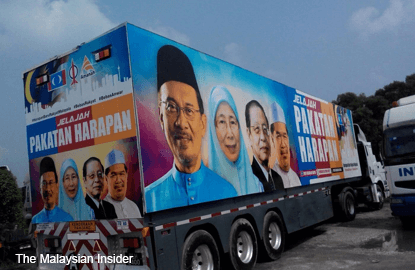 (Oct 9): Pakatan Harapan has rolled out a shiny new attraction – a 16-wheel trailer plastered with the faces of its leaders that will travel the country on a roadshow aimed at garnering support.
Named the Optimus Prime, the trailer's first stop is Johor this evening as part of plans to introduce the newly formed opposition pact at a ceramah tonight.
Kulai and Skudai will be the first two areas that Optimus Prime will visit. At press time, the vehicle is on its way to the southern state.
This is the first public awareness programme by the new pact that is made up of PKR, DAP and new opposition party, Parti Amanah Negara (Amanah), a splinter party from PAS.
Amanah has replaced PAS, one of the original members of the now defunct Pakatan Rakyat, which has chosen not to join the new pact after its falling out with DAP and rivalry with Amanah.
Three of Pakatan Harapan's key leaders PKR president Datuk Seri Dr Wan Azizah Wan Ismail, DAP's  Lim Kit Siang and Amanah president Mohamad Sabu are expected to address the crowd in Kulai tonight.
And although opposition icon Datuk Seri Anwar Ibrahim is in prison for sodomy, the large photo of his face on the side of the trailer will serve as a reminder of his endorsement of the new pact.
"Initially, this programme was organised by Kulai Amanah only but it was taken over by Johor Amanah and now being taken by Pakatan Harapan," Kulai Amanah leader Hisham Md Zin told The Malaysian Insider.
Johor was chosen as the launch site for Pakatan Harapan, based on assessments that voters there would be receptive to the new pact.
"Based on Johor's demography, I think Pakatan Harapan has the opportunity to win 70% of Johor seats," said Hisham, a civil servant due for retirement.
Prior to PAS's general assembly in June, Hisham was the Kulai PAS chief. He did not contest the party elections after disagreeing with the Islamist party's leadership which was heading for a fallout with Pakatan Rakyat.
In Johor, 17 out of 26 PAS-controlled areas have crossed over to Amanah, with only 9 still sticking with the Islamist party.
Think tank the Ilham Centre recently predicted Johor PAS would be crippled following the desertion of PAS leaders and members in the state to Amanah.
Tonight's ceramah will be an indicator of PAS's remaining strength in Johor and a test bed of support for Pakatan Harapan there, the state known to be arch-rival Umno's stronghold. – The Malaysian Insider