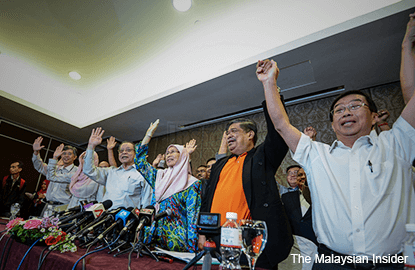 This article first appeared in The Edge Financial Daily, on September 23, 2015.
SUBANG JAYA: Pakatan Harapan is the name of the new opposition pact consisting of PKR, DAP and Parti Amanah Negara (Amanah), opposition leader Datuk Seri Dr Wan Azizah Wan Ismail (pic) announced yesterday.
"From today (yesterday), Pakatan Harapan will function as a political pact that will defend the people in facing Umno and Barisan Nasional (BN)," she said during a press conference in Subang Jaya, Selangor.
The three parties and representatives from non-governmental organisations held a roundtable to discuss the opposition's future after the death of Pakatan Rakyat.
Dr Wan Azizah also announced that Pakatan Harapan had agreed that de facto PKR leader Datuk Seri Anwar Ibrahim was its candidate for prime minister should the new pact take over federal power in the next general election due in 2018.
Anwar is serving a five-year prison term for sodomy, a charge which he and opposition supporters said was politically motivated.
"The first thing to announce is that Anwar will be prime minister if Pakatan Harapan is able to win the coming general election," Dr Wan Azizah said.
Asked about PAS' snubbing the roundtable discussion yesterday and the new opposition pact, the PKR president said the party had been invited but declined to attend.
Dr Wan Azizah, who is the Permatang Pauh member of parliament, said a committee consisting of the secretary-general and other representatives of each party involved in Pakatan Harapan would meet soon to fine-tune common policies, principles of cooperation and other areas of mutual agreement.
PKR secretary-general Rafizi Ramli, when asked by reporters later, said Pakatan Harapan would be different from the old pact, Pakatan, as there would now be written agreements that would bind all three parties involved.
Rafizi said the document which would spell out the terms of being a member of the new pact would have to be reviewed if any other party wanted to join it.
Despite the fallout between PAS and DAP, PKR has continued to leave the door open to the Islamist party to join the new pact.
PAS rejected the invitation on grounds that it could not work with DAP and "traitors" — in reference to its former members and leaders who formed Amanah. — The Malaysian Insider