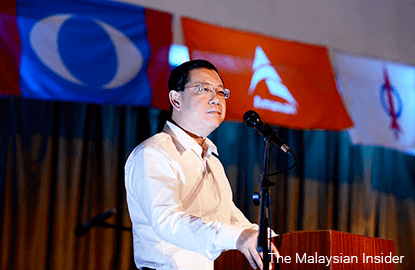 PENANG (Jan 23): Pakatan Harapan members of parliament will vote against the Trans-Pacific Partnership Agreement (TPPA) at a special Dewan Rakyat sitting to debate the matter next Tuesday and Wednesday.
DAP secretary-general Lim Guan Eng said it has been decided that all MPs from DAP, PKR and Parti Amanah Negara would vote against TPPA.
"Of course, there are parties that will try to play up racial sentiments and accuse us of supporting the TPPA. How many times have we already declared that we don't support it?
"They say we support the agreement because we are Chinese. The TPPA is not by the Chinese but by the US."
Lim, who is also Penang chief minister, said the logic did not make sense.
"Even China does not support the TPPA. Those who support the TPPA are Barisan Nasional and Umno.
"So if we go by this logic, it would make BN and Umno Chinese, right?" he said in his speech at the Penang Amanah dinner in Bayan Baru yesterday.
Yesterday, PAS president Datuk Seri Hadi Awang accused DAP of supporting the TPPA on grounds that the Chinese dominated trade in Malaysia.
"The DAP agrees. Why? Because the Chinese control trade in Malaysia. It's the Bumiputera who are tired of TPPA," Hadi said in a video on the party's Facebook page.
DAP has, to date, not made any statements in support of the TPPA.
In November last year, the party said it would vote against the TPPA if the federal government could not clarify the impact of the deal on the prices of medicine.
Despite this, DAP and its Pakatan Harapan colleagues have also been lately criticised by Parti Sosialis Malaysia for their "pathetic" mobilisation for the anti-TPPA protest scheduled in Kuala Lumpur this afternoon.
The protest is organised by non-governmental organisations comprising Bantah TPPA, Kongress Rakyat and student groups.