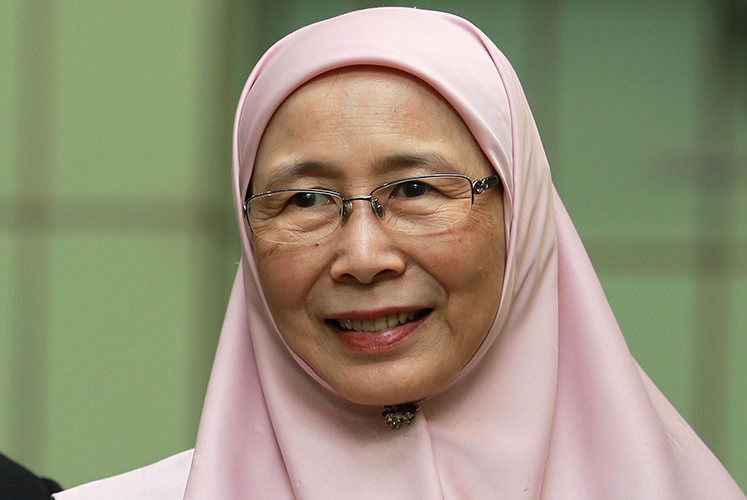 PUTRAJAYA (Jan 13): Datuk Seri Dr Wan Azizah Wan Ismail admits that chances of Pakatan Harapan (PH) winning in the coming Cameron Highlands parliamentary by-election on Jan 26 are slim as Barisan Nasional is harping on local sentimental issues.
The deputy prime minister also said the by-election would be a tough fight as the opposition coalition Barisan Nasional (BN) had fielded an Orang Asli person as its candidate.
"Well, we have always had difficulty before we came into the government. But it is a little more difficult now because they (BN) are playing on local sentiments. I  met them (the Semai people) recently. Of course, it (difficulty) is a part of the contest. 
"And what we offer at least if they vote for us, it is good enough," she told reporters after launching the Malaysia Positive 2019 Convention here today.
Dr Wan Azizah who is also PH president was commenting on the chances of PH candidate M.Manogaran winning the Cameron Highlands parliamentary seat where he will face a four-cornered fight with BN candidate Ramli Mohd Nor and two independent candidates.
Asked about Manogaran winning the seat, Wan Azizah said his chances were good because of the change in government at the federal level.
Asked if disciplinary action would be taken against PKR Senator Bob Manolan Mohd following claims that he allegedly threatened a group of Orang Asli village headmen in Cameron Highlands recently, Dr Wan Azizah who is also Chairman of the PKR Advisory Council said she had spoken to Bob Manolan about it and he said that was not what he meant.
"On disciplinary action, I will leave it to the new president Datuk Seri Anwar Ibrahim. But we do not agree with him (Bob Manolan) making threats. We have to be careful with what we say," she said.
When asked to comment on photos of a woman wearing a PH t-shirt who was seen giving out money in Cameron Highlands, the Deputy Prime Minister  urged the reporter concerned to check the authenticity of the photographs and the claims.
"Really? You can wear the t-shirt and hand out (money) and a photograph taken. So, you need to go and check further. But we have already told our staff not to do anything against the law in an election," Wan Azizah said.
Earlier, in her speech at the launch of the convention, Dr Wan Azizah said the failure of a government stems from its inability to identify and adopt the right position with the people.
She said a direct result of the spread of false information was that it led to doubts among the people, increasing racial sentiments, and finally causing racial and religious disharmony.
"One of the outcomes of a positive mind is the ability to sieve through information. There is a lot of false information on the social media. We should learn from the May 13 incident and we do not want a repeat of it," she said.