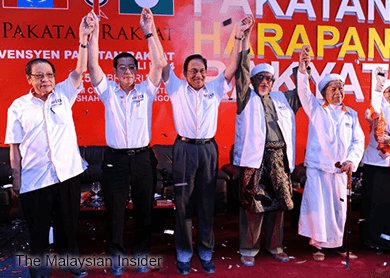 (June 26): Pakatan Rakyat's (PR) demise following months of strained ties among parties in the opposition coalition does not give Barisan Nasional the upper hand with voters, analysts say.
At the same time, they note the opposition's uphill task to regain the trust of voters who have lost faith in them over their bickering in the past few months.
In fact, PR or a new coalition, could recover from their troubles as long as they find a credible party to replace PAS, said Professor James Chin, director of Asia Institute in University of Tasmania.
"Most people do not make up their minds on how they will vote until the last minute. So PR or its new body has time to recover.
"The most important thing is to find a credible third party to replace PAS," he told The Malaysian Insider.
Political scientist Dr Wong Chin Huat said PAS progressives who were sidelined in the recent party polls would be the determining factor if the opposition does well in the next general election (GE).
"Overall, how big the gain (reviving middle ground and non-Muslim support) and the loss (rejection by some Islamist voters) depend on how G18 emerges and positions itself as a new force," said the senior fellow from Penang Institute, referring to the group of 18 PAS progressive leaders.
"If G18 does well, the overall negative impact on the opposition will be small.
Like Chin, Wong said that with PR disintegrated and lingering rumours of a new coalition without PAS, the opposition could lose some votes from supporters of the Islamist party.
"But they may arrest the loss from disillusioned middle ground and non-Muslim voters," he added.
PR has been seen as the hope of Malaysians to "save" them from the reign of the BN government, which has been bridled with allegations of corruption, abuse of power and stifling of human rights.
But the 7-year-old coalition was declared dead last week after PAS cut ties with DAP, following a motion passed without debate at its recent party congress.
DAP had earlier decided to cut its ties with PAS president Datuk Seri Abdul Hadi Awang, but said it would continue to work with the party.
It has been widely speculated that a new political party might be formed by the G18 group after the Hari Raya festivities, following the declaration by PAS faction Persatuan Ummah Sejahtera (PasMa) that it would join hands with the group to replace PAS in PR.
Observers had said that a new opposition coalition without PAS would be stronger and more stable because DAP and PKR shared more similarities than differences.
Ibrahim Suffian, who heads pollster Merdeka Center, said that due to shared interests, it is likely some form of cooperation would remain among the opposition parties.
"But many things can happen in the intervening period. The opposition can only make gains if they work cooperatively, that is, ensuring 1-1 contests and thus behave reliably and predictably," he said.
He said it was difficult to predict the people's sentiments as the next general election is still three years away, but reminded that the opposition had disappointed many of their hardcore supporters.
"At the moment, the opposition is in disarray and has dampened the enthusiasm and hopes of voters who want a change from the status quo.
"If current conditions persist, we may see some multi-cornered fights among opposition parties and BN, but then three years is a long time and things may evolve in the interim," he added.
Chin said that BN's current position was also weak with the public quarrel between Prime Minister Datuk Seri Najib Razak and his predecessor Tun Dr Mahathir Mohamad.
"BN needs to worry about Dr Mahathir first before they have to worry about PR. Until they resolve the Mahathir issue, they cannot do anything else."
The Umno president has come under fire in recent months from Dr Mahathir, who warned that BN under Najib would not win the next elections.
Dr Mahathir's attacks have created a rift among Umno grassroots members, though the party's influential middle-tier leaders at the division level have strongly backed Najib.
Dr Mahathir has seized on the 1Malaysia Development Bhd (1MDB) financial scandal, the state investment arm which has chalked up debts of RM42 billion, urging Najib to quit over the issue.
Echoing Chin, Wong said Najib was much weaker now than during the last polls in 2013.
"Who will win the next election? It depends on how fast both BN and the opposition can sort out their mess. I won't rule out the opposition's chances. How well the G18 positions itself may be the biggest factor," he said.
But voters have short memories, Chin said, adding that in three years' time they would have forgotten about the crisis that tore the opposition coalition apart.
"The long-term winner is DAP. DAP can now have a real Islamic party partner they can trust.
"For a long time, DAP could not trust (PAS president Datuk Seri Abdul) Hadi Awang and gang, so they had a lot of problems with PAS. If PR can get their act together and get a new Islamic party to replace PAS, then Pakatan will be strong again," Chin added. – The Malaysian Insider