Click / Tap image to enlarge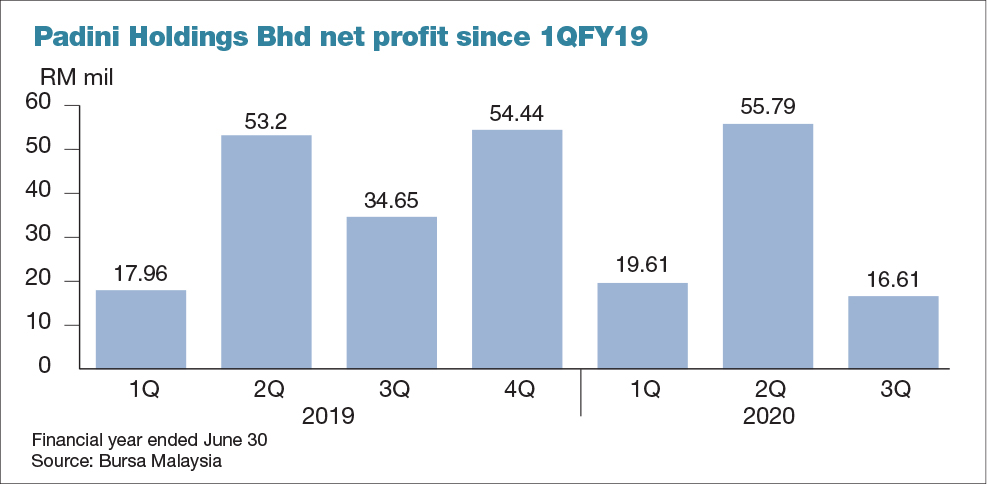 Click / Tap image to enlarge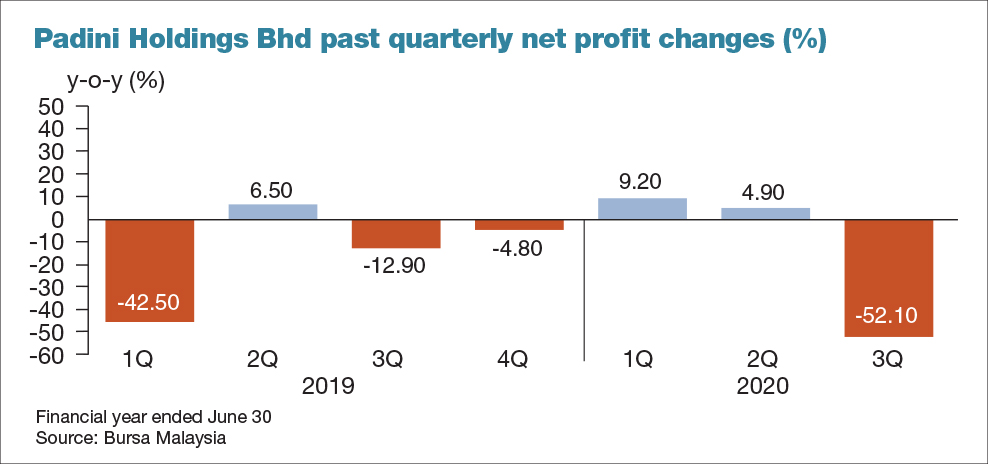 KUALA LUMPUR (May 28): Padini Holdings Bhd's net profit more than halved to RM16.61 million for the third quarter ended March 31, 2020 (3QFY20) — its weakest quarterly earnings in nearly six years, no thanks to the nationwide Movement Control Order (MCO) to contain Covid-19 outbreak.
Furthermore, the company's earnings were also adversely impacted by the adoption of the Malaysian Financial Reporting Standards 16 (MFRS 16).
The fashion retailer's share price was under pressure, down by 14 sen or 5.11% to RM2.60 in the morning session amid the sharp drop in earnings.
Against the backdrop of weak consumer sentiment, still some analysts are advising their clients to invest in the retail stock amid expectations that Padini's sales will recover post MCO in the next financial year.
According to Bloomberg, there are four "buy", six "hold" and two "sell" calls. The fair value pegged by analysts is in a rather wide range of between RM2.10 and RM3.70.
Among the broking houses that have a "buy" call on Padini are RHB Research, AmInvestment Bank, and TA Securities.
In the latest quarterly result review, RHB Research commented that Padini is a proxy to position for cyclical recovery, with its earnings forecasts growing by 45% to RM162 million for the financial year ending June 30, 2021 (FY21), underpinned by the strategic presence of Padini stores and value-for-money product offerings.
With Padini's strength for value-for-money product offerings, RHB Research said Padini is in a good position to capitalise on potential downtrading as a result of fragile consumer sentiment and weak spending power.
"On top of that, earnings drag from MFRS 16 will wear off in FY21, and we also foresee margin expansion driven by higher operating efficiency," it added.
RHB Research has trimmed its target price (TP) to RM3.03, from RM3.10 previously. It still recommends investors to buy the retail stock as Padini is currently trading at an undemanding 11 times price-earnings FY21 (-1 standard deviation over five-year mean).
Furthermore, it noted that Padini's balance sheet is sturdy with net cash of RM450 million.
It is worth noting that Padini's net profit of RM92 million for the cumulative nine months ended March 31, 2020 was below RHB Research's and consensus expectations, accounting for 62% and 71% of their full FY20 earnings forecasts, respectively. On that, RHB Research attributed the weaker results to the worse-than-expected impact from the pandemic and the resulting MCO, which forced Padini to fully suspend the operations of all its stores.
The research house expects the soft earnings are likely to persist into the following quarter, 4QFY20, despite the Aidilfitri festival, considering the longer MCO period and reduced festive shopping crowds.
Likewise, AmInvestment Bank, which has a higher fair value of RM3.15 (from RM2.93), is looking beyond the current financial year. It expects Padini's recovery to come in gradually in FY21 and FY22 post containment of Covid-19 pandemic.
The research house projects Padini to generate an annual core net profit of RM107.4 million for FY20, significantly lower than RM160.2 million in FY19, before its earnings recover to RM148.1 million for FY21 and further growing earnings of RM170.6 million for FY22.
This translates into earnings per share of 16.3 sen for FY20, 22.5 sen for FY21 and 25.9 sen for FY22.
For the near term, AmInvestment Bank observed that the adverse impact from the Covid-19 pandemic would be larger for Padini in 4QFY20 due to the extended MCO affecting most of the quarter from April 1 to June 9.
However, the group's plan to control costs, preserve cash, streamline operations and optimise working capital should slightly lessen the negative impact from the pandemic, it added.
That said, not all are optimistic about Padini's prospects.
Kenanga Research has downgraded Padini to "market perform" after the share price having gone up 33% since its last issue of the strategy notes and warned of cautious consumer spending ahead with prolonged uncertainties from the pandemic.
This is despite Kenanga Research expecting that near-term sales could be boosted by pent-up post-MCO demand.
Nonetheless, Kenanga Research has raised its TP to RM2.74 from RM2.65.
MIDF Research, however, slashed its earnings forecasts for Padini by 29.3% for FY20 and 8.8% for FY21, after taking into consideration more cautious consumer sentiment amid Covid-19 pandemic.
MIDF Research has maintained "neutral" recommendation with a lower TP of RM2.61 (from RM2.86) and anticipates it to generate annual net profits of RM106.1 million for FY20, RM127.2 million for FY21 and RM133.4 million for FY22.
Besides that, MIDF has also lowered its dividend per share (DPS) assumption to eight sen for FY20, compared with 10 sen projected previously. This is lower than 11.5 sen of DPS Padini paid for FY19.
From its recent low of RM1.84 on March 19, the stock has indeed climbed 41%.