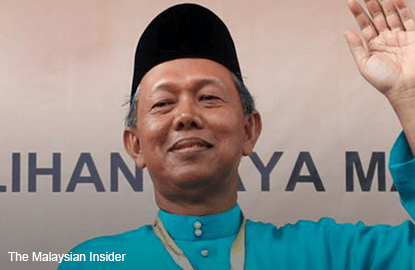 KUALA LUMPUR (Oct 19): The Public Accounts Committee (PAC)'s newly-appointed chairman Datuk Hasan Arifin said today he will prioritise the 1Malaysia Development Bhd (1MDB) investigation along with other national financial issues.
"Since I've just been appointed as PAC chairman, I will have to look at all the reports by the Auditor General on 1MDB first. The government has promised to expedite this investigation and any delay is just a matter of perception," he said in his first press conference as PAC chairman at the Parliament lobby.
"I don't want to say when we are going to convene the first PAC meeting, but we will do so the moment the other PAC members have been selected (by their respective parties)," said Hasan, who is also Member of Parliament (MP) for Rompin.
Earlier, Minister in the Prime Minister's Department Datuk Seri Azalina Othman had moved a motion in Parliament to appoint Hasan as the new PAC chairman, which was passed after much debate.
Hasan is replacing Datuk Nur Jazlan Mohamed who had been appointed as Deputy Home Minister in a Cabinet reshuffle in July.
Apart from Nur Jazlan, three other PAC members were appointed to the Cabinet: Datuk Wilfred Madius Tangau was appointed as Science, Technology and Innovation minister, while Datuk Seri Reezal Merican Naina Merican and Datuk Mas Ermieyati Samsudin were appointed deputy ministers.
Following Hasan's appointment, both Barisan Nasional (BN) and the opposition must now nominate their candidates to the PAC's select committee before the bipartisan committee can reconvene. Upon nomination, they will be appointed by the select committee chaired by Speaker Tan Sri Amin Pandikar Mulia.
However, Hasan admitted that the recent political situation, where the Islamist party PAS saw its progressive members forming another party Parti Amanah Negara, might see more new faces in the PAC line-up.
"It's come to my understanding that the recent changes in some political parties, like PAS for instance, might have changed their PAC line-up. So, after the new members have been officially appointed by the select committee, only then will we convene the first meeting," he said.
Touching on the criticisms against PAC member Tony Pua, a staunch critic of 1MDB, and the calls for his removal from the committee, Hasan said it will be discussed during the first PAC meeting.
"I cannot judge about perceptions, even if it comes from BN. We will have our first meeting and look into it," said Hasan, adding that he will conduct his duties fairly and without fear or favour.
The bi-partisan committee consists of 13 members, of which eight are from BN and the remaining five from the opposition.
PAC lost its chairman and three BN members when they were promoted to the Cabinet, resulting in a temporary freeze on its current proceedings over the state-owned investment fund 1MDB pending new appointments.
The PAC was scheduled to question 1MDB top executives, including its former chief executive officer (CEO) Datuk Shahrol Halmi, president and group executive director Arul Kanda Kandasamy and Mohd Hazem Abdul Rahman, who served as 1MDB's CEO from March 2013 to January 2015, in August.