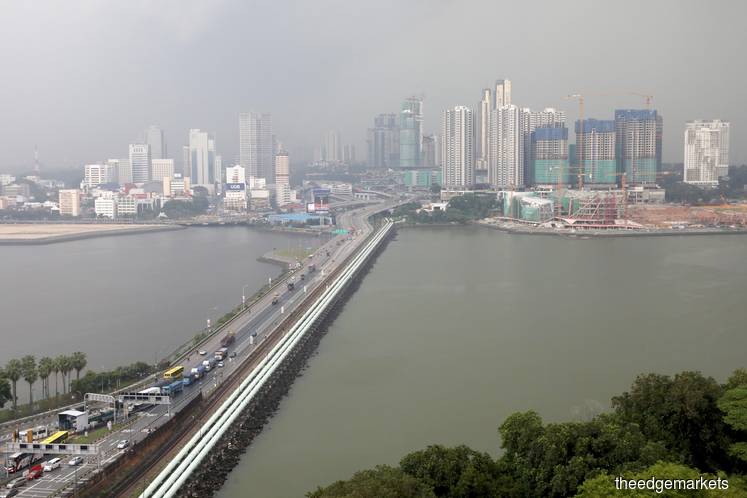 KUALA LUMPUR (April 2): The Public Accounts Committee (PAC) said its report on the Johor-Singapore Vehicle Entry Permit (VEP) system will only be ready for tabling in the July parliamentary session.
"The report on VEP can be tabled in the July sitting, not this sitting," PAC deputy chairman Wong Kah Woh told reporters at the Parliament lobby today.
Wong also said the committee will be calling Chief Secretary to the Government Datuk Seri Ismail Abu Bakar to testify in the hearing on the VEP.
Ismail had served as the transport ministry's secretary-general at the time when the VEP was mooted.
The PAC has earlier summoned current transport ministry secretary-general Khairul Adib Abdul Rahman and former transport minister Datuk Seri Liow Tiong Lai to testify on the issue.
The hearing on the VEP comes after the Auditor-General's Report 2017 questioned the manner in which the project was awarded through direct negotiations, and not open tender.
Wong also said PAC is scheduled to have a briefing today with former Auditor-General Tan Sri Ambrin Buang on the Defence Ministry's (Mindef) land swap deals in the 2015-2017/2018 period.
"At the moment we can see two land deals, one in Paloh, another one in Negeri Sembilan. After the briefing we will have more particulars on the matter," Wong said.
It has been reported previously that Mindef has lodged a report with the Malaysian Anti-Corruption Commission (MACC) involving two land swap deals carried out by the previous administration which have allegedly incurred the government losses of over RM500 million.
The first involved the Royal Malaysian Air Force (RMAF) base in Kinrara, Puchong, at a 34% discount in exchange for a new military base in Paloh, Johor, new RMAF headquarters and a new logistics training centre. However, Mindef overvalued the Paloh land, acquiring it at a 34% premium.
The second case involved a Mindef base in Rasah, Negeri Sembilan, which was swapped with a new base in Hutan Melintang, Perak.
Earlier, former defence minister Datuk Seri Hishammuddin Hussein welcomed the PAC probe into the two deals, but urged the committee to conduct its investigation "from the very beginning" of the dealing process.
Additionally, the committee is awaiting another briefing by the National Audit Department on the former's probe into the alleged missing Goods and Services Tax (GST) refunds before the report can be finalised.
"We will see if there is anything to add or something like that [on the GST probe]," Wong said.
"If possible we want to close [the probe] next week, if not then at least all the technicalities including our housekeeping can be completed next week," he added.