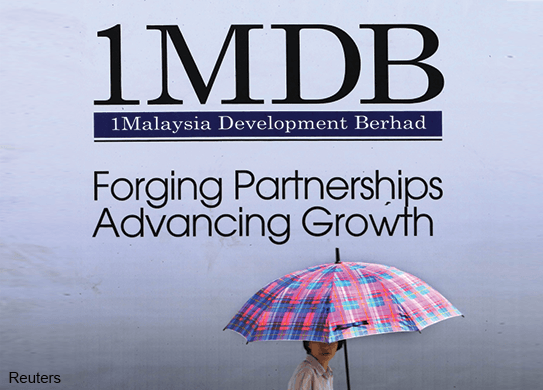 KUALA LUMPUR (May 11): Without waiting for the Auditor-General's Report on debt-laden 1Malaysia Development Berhad (1MDB), Parliament's Public Accounts Committee (PAC) has taken the first step to probe the state investment vehicle by summoning top officials in the civil service.
It has sent letters to the Treasury's secretary-general Tan Sri Irwan Serigar Abdullah and Economic Planning Unit (EPU) director-general Datuk Seri Dr Rahmat Bivi Abdullah last week, requesting the duo to give their statements to the PAC, which is scheduled to meet next week on Tuesday when parliament convenes.
Irwan also sits on 1MDB's board of advisers, whose chairman is Prime Minister Datuk Seri Najib Razak.
"The step taken by PAC is not surprising because Datuk Nur Jazlan Mohamed as the PAC chairman has hinted that the committee will start its proceedings towards 1MDB," said a source who requested anonymity.
"However, the move to call the EPU proves that the committee is really committed to investigate all parties that are responsible towards the administration of 1MDB".
It is understood that Nur Jazlan will issue a formal media statement on this matter soon.
The source also told The Malaysian Insider that PAC, which has members from the ruling Barisan Nasional and opposition Pakatan Rakyat elected representatives, is the best platform for Malaysians to know the exact operations and investments of the state investment vehicle that led it to be saddled with the RM42 billion debt.
Another source said PAC is also expected to call former CEO Datuk Shahrul Ibrahim Halmi who helmed the top post when 1MDB was first set up in 2009 until March 2013, as well as current CEO Arul Kanda Kandasamy.
"PAC will not stop here, we expect more people will be called, including Bank Negara and auditors KPMG, Ernst & Young and Deloitte.
"Definitely, 1MDB board of directors chairman Tan Sri Lodin Wok Kamaruddin and former chairman Tan Sri Bakke Salleh will also be summoned, as well as Lembaga Tabung Haji's group managing director Tan Sri Ismee Ismail, who is also a member of 1MDB's board since the company's inception in 2009," said the source.
According to the source, PAC needs a long time to investigate the company, and does not discount the possibility that it could go on until the next general election.
"PAC needs to call 1MDB's advisory board chaired by Najib, if not its credibility will be questioned," said the source.
The source said PAC's report on 1MDB should to be used by the authorities – either the police or the Malaysian Anti-Corruption Commission – as a reference to charge those responsible for graft and abuse of power if such elements were uncovered.
"PAC is the only free entity for now, even the National Audit Department is not truly free because they are still under the executive.
"In fact, the call by Umno minister Datuk Seri Hishammuddin Hussein for an international firm to freely audit 1MDB has no meaning because it is clearly known that auditing firms will side with their clients, and in this case, it will be Putrajaya," added the source.
Criticism has been mounting over the wholly-owned Finance Ministry investment vehicle, established in 2009, which had chalked up debts of up to RM42 billion.
Second Finance Minister Datuk Seri Ahmad Husni Hanadzlah had previously disclosed that Putrajaya had approved a RM950 million standby credit facility for 1MDB, of which RM600 million has been used.
Scrutiny has grown more intense recently following whistleblower site Sarawak Report's exposés that have piled pressure on Najib and prompted opposition politicians, former Umno leaders and anti-graft bodies to demand a thorough investigation into the fund.
Najib then ordered the auditor-general to look at 1MDB's books, saying that the report would be passed for transparency inspection to the Public Accounts Committee, which is fully bipartisan and reflects Parliament's composition.
Prior to Najib's order, PAC said it wanted the national auditor to carry out an audit of 1MDB's deals. – The Malaysian Insider