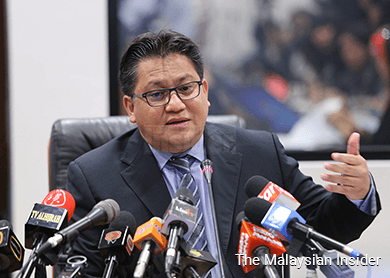 KUALA LUMPUR: The Public Accounts Committee (PAC) acknowledges that the economic figures, which do not take into account large off-budget items such as contingent liabilities and expenses, are not reflective of the government's "real financial position".
As borrowings in Pembinaan PFI Sdn Bhd, whose loans were the third-
highest among the government-owned entities in 2012, were not shown on the government's balance sheet, the PAC noted that the country's national budget to gross domestic product (GDP) ratio of 3% and total national debt to GDP of 54% were "skewed".
The PAC opined that off-budget expenditure can create doubts about the figures produced in the budget and does not reflect the government's real financial position, including its contingent liability, deficit and debt.
This was revealed in the PAC's findings on the third series of the Auditor-General's Report 2013 on Pembinaan PFI, tabled in Parliament yesterday.
"In the PAC's opinion, this programme (Pembinaan PFI) serves to allow the government to make off-budget loans. The private quarters (firms) did not fund the costs of the projects," said the PAC in the report.
Apart from that, the loans under Pembinaan PFI's financial accounts are not shown as the government's liabilities and the expenditure was not included in the country's budget deficit, it added.
The government's initiative to raise funds through Pembinaan PFI to finance development projects is a good concept, said the PAC, but noting that the intended concept was not used in this case.
In the view of the PAC, this programme is making use of "off-budget" financing by the government and the private sector did not pay for the cost of the projects undertaken.
The PAC said Pembinaan PFI, which was set up in 2006, had amassed liabilities of RM27.862 billion.
Pembinaan PFI is 99.9% owned by Ministry of Finance (MoF) Inc with the Federal Land Commission having one share.
According to the third series of the Auditor-General's Report 2013, Pembinaan PFI had the third-highest liabilities among all government-owned entities at the end of 2012, behind two well-known companies with huge assets, revenues and profits, namely Petroliam Nasional Bhd (RM152 billion) and Khazanah Nasional Bhd (RM69 billion).
It has been reported that the federal government's debt stood at RM582 billion or 54.5% of the GDP — barely 0.5% away from the self-imposed ceiling of 55%.
To recap, Prime Minister Datuk Seri Najib Razak said the new fiscal deficit for 2015 for the revised budget is at 3.2%, which was slightly higher than the 3% in Budget 2015 proposals announced in October last year.
The Employees Provident Fund is the main creditor for the government-owned Pembinaan PFI, and has extended RM25 billion in loans.
This article first appeared in The Edge Financial Daily, on June 17, 2015.