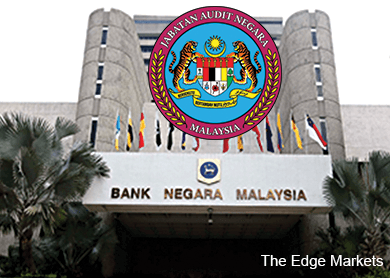 KUALA LUMPUR: The Public Accounts Committee (PAC) said it will call up Bank Negara Malaysia (BNM) to assist in its probe into troubled 1Malaysia Development Bhd (1MDB), if the need arises.
"They (BNM) have executive powers, so they can investigate and they have the staff to do it. If their report is of value, then maybe we can call them (BNM) at a later stage. If there is a need to call Bank Negara, we will call them," said PAC chairman Datuk Nur Jazlan Mohamed, when asked if BNM had initiated its own probe into the debt-laden sovereign fund.
Nur Jazlan was speaking to reporters after a meeting with officials from audit firm Deloitte yesterday, at Parliament. Deloitte is one of the three audit firms being called up to assist the PAC in its investigation into 1MDB.
On June 3, BNM said in a press statement that the central bank had started a "formal enquiry" on whether 1MDB and its officers had breached its rules and regulations.
BNM pointed out that it was taking statements from individuals involved in the governance process of 1MDB, and obtaining information from other relevant domestic and foreign parties.
Nur Jazlan said the PAC needs to build up the case on 1MDB, to decide whether it is necessary to call Prime Minister Datuk Seri Najib Razak and businessman Low Taek Jho to give statements.
"Give us some time," he said, urging the public to be patient so the commission can do its task.
According to Nur Jazlan, the meeting with Deloitte yesterday has provided more information to the committee. Nur Jazlan, however, declined to reveal if it has new leads on 1MDB.
Najib and Jho Low are the other two individuals who have been linked to 1MDB's dealings.
Najib is also the finance minister and the chairman of 1MDB's advisory board.
This article first appeared in The Edge Financial Daily, on June 11, 2015.