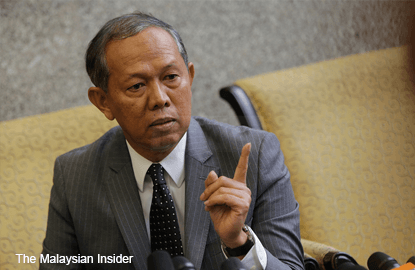 (Nov 30): The final report by the Auditor-General on state investor 1Malaysia Development Berhad (1MDB) is expected to be handed over to the Public Accounts Committee (PAC) on Dec 17.
PAC chief Datuk Hasan Arifin said this in a statement today after the bipartisan committee continued its questioning of former 1MDB chief executive Datuk Shahrol Halmi today.
He said that Shahrol gave satisfactory cooperation and answered all questions posed to him.
Hasan added that all PAC members got the opportunity to question the former CEO on all aspects of 1MDB's administrative management.
He said this was from testimony obtained by PAC from Finance Ministry secretary-general Tan Sri Irwan Serigar Abdullah and Economic Planning Unit managing director Datuk Dr Rahamat Bivi Abdullah.
Hasan also said that 1MDB president Arul Kanda Kandasamy would appear before the committee tomorrow.
This, he added, would be followed by 1MDB chairman Tan Sri Lodin Wok Kamaruddin, who would appear before the committee after PAC obtained the final Auditor-General report on 1MDB.
"PAC stresses that the main priority of the committee is to conduct a fair and thorough investigation on 1MDB.
"A complete report is expected to be ready in March 2016."
PAC started probing into 1MDB in May, but the proceedings were stopped by a change in the panel line-up after a Cabinet reshuffle.
The reshuffle led to allegations that Putrajaya was attempting to delay the probe into the firm, which was the brainchild of Prime Minister Datuk Seri Najib Razak. – The Malaysian Insider