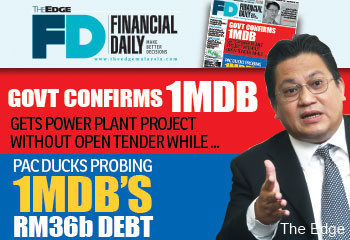 KUALA LUMPUR: Public Accounts Committee (PAC) chief Datuk Nur Jazlan Mohamed (pic) yesterday ducked the issue on the massive RM42 billion borrowings of 1Malaysia Development Bhd (1MDB) that many fear would pose a systematic risk to the country.
Nur Jazlan said 1MDB's debt was not a pressing matter for the panel compared to the Auditor-General Report. He noted that the PAC has yet to make any assessment on 1MDB.
He said the PAC's priority was to investigate issues raised by the Auditor-General and it could not haul up government agencies or state-linked companies based on individual allegations.
"All I am saying is [that] at the end of the day our job is to go through the audit report first ... any issues on 1MDB — just because somebody said something is wrong doesn't mean that [there is] anything wrong — but this is on our radar.
"We cannot just respond to one person — you can see our schedule is packed," said Nur Jazlan.
The PAC chief told the media this when asked if the PAC was investigating the sovereign fund amid the rising concern about its large borrowings.
In an interview with The Edge weekly two weeks ago, former prime minister Tun Dr Mahathir Mohamad said the government should dissolve IMDB and sell all its assets, which include power plants and prime tracts in Kuala Lumpur and Penang.
"IMDB is not necessary. It has not contributed anything to the country, not even to the government's finance," said the former premier.
He said 1MDB should not be regarded as a sovereign fund because it was borrowed money, not the government's excess fund.
"It is not the right thing to do ... why should it buy the power plants at a higher price. There is no necessity for you to borrow to invest. If you have excess money, by all means invest in something, but when you borrow, you have to pay a charge for borrowing.
"And governments should not be in such businesses at all," Mahathir commented.
1MDB has been under public scrunity as the fund has issued debt papers, some of which are government-guaranteed bonds, to raise RM42 billion. It has drawn criticism as a large portion of the money raised has been kept in offshore investment accounts abroad.
Besides the power-generation plants with power purchase agreements that are near expiry dates, 1MDB has also paid hefty premiums for several parcels of land in Penang that have added to its interest expense.
According to The Edge weekly, 1MDB has paid RM1.38 billion for more than 234 acres (94.69ha) of land around Air Itam town in Penang that is planned for low-cost and affordable homes.
However, given the hefty price tag of RM1.38 billion for the tract, 1MBD could incur potential losses of RM1.25 billion to develop the various housing projects, The Edge reported. If it does not proceed with the development, 1MDB will still be sitting on losses due to financing costs as it borrows to buy the land.
This article first appeared in The Edge Financial Daily, on October 15, 2014.