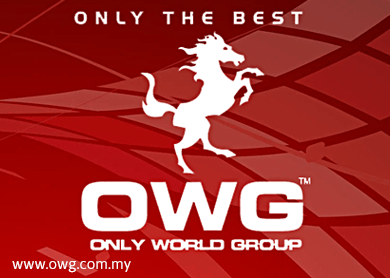 KUALA LUMPUR (Feb 16): Only World Group Holdings Bhd climbed to a high of RM1.73 or 20.14% in morning trades after CIMB Research initiated coverage with an "add" rating and a target price of RM2.62.
As at 11.30am, the counter was traded at RM1.60, up 16 sen or 11.11%, translating into a market capitalisation of RM266.4 million.
Some 5.39 million shares were seen traded between RM1.58 and RM1.73 today.
To recap, OWG was listed on Dec 18 last year at an initial public offering (IPO) price of 88 sen and has steadily risen to a high of RM1.73 today on positive business outlook of the group.
The group had raised RM49.6 million from the IPO, of which 60% will be allocated for the Komtar Tower, Penang revitalisation project which the company expects to cost RM60 million.
Some RM10 million will be used to set up 10 new Food service outlets (FSO), while another RM3 million is set aside for the expansion of the Wet World Water Park Shah Alam.
In a note to client today, CIMB said OWG (fundamental: n/a; valuation: n/a) is a prime beneficiary of the Genting Integrated Tourism Plan (GITP).
"Increased visitation to Genting Highlands from late-2015, and theme park and restaurant expansions in this captive market will drive its explosive earnings growth," CIMB's analyst Marcus Chan said in a note to client on Monday.
He noted more than 80% of OWG's revenue is derived from Genting Highlands and is a high-growth food and beverages (F&B) theme park proxy for the GITP.
"Higher visitation will result in strong earnings per share (EPS) growth of 46% to 47% in financial year 2016 (FY16) and financial year 2017 (FY17) for OWG," Tan said.
According to the house, OWG's current F&B space in Genting is 30,000 sq ft. The group is believed to stand a high chance of securing additional prime space in the 400,000 sq ft new retail space to be launched at Sky Avenue Plaza this year.
Apart from GITP, Tan highlighted that OWG also won a tender to undertake the revitalisation project for the Komtar Tower in Penang.
"The projects will involve a transformation of the building's top five floors into high-end commercial retail, F&B and a tourist observation deck and OWG was granted an up-to 60-year concession to operate the F&B and other outlets on these floors in exchange," Tan said.
"The crown jewel, in our view, is the potential tourist receipts from the observation deck, given that Penang is a major tourist destination," he added.
Tan said OWG's earnings in financial year 2015 (FY15) will be flat due to the ongoing renovation works in Genting and Komtar but investors should focus on earnings from FY16 onwards.
"We pegged our target price to earnings ratio (P/E) for OWG at 19 times, a 20% discount to the target P/E of its larger F&B peers, Berjaya Food and 7-11 of 23.7 times, to reflect a liquidity discount and smaller market capitalisation," he added.