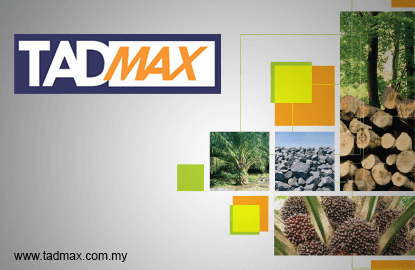 KUALA LUMPUR (March 15): Property and construction player Tadmax Resources Bhd saw 27 million shares traded off-market today. The shares represent a 5.52% stake in the company.
Based on Bloomberg data, it is known that the shares — traded through six blocks — exchanged hands at 42 sen apiece for a total value of RM11.34 million. It is unclear who the parties involved in the exchange were at the time of writing.
Last December, Tadmax announced plans for a two-for-five renounceable rights issue of 219.3 million shares with free detachable warrants to raise RM109.67 million for acquisition purposes.
The figure was later revised to RM87.74 million, based on its revised issue price of 40 sen per share — a 1.48% discount to the five-day volume weighted average price of its shares at the time.
Tadmax had in 2016 announced its plan to transform into a property and power generation player, after tidying up its balance sheet. The group was awarded a contract to build a 1,000MW combined cycle gas turbine (CCGT) plant on its Pulau Indah land in August 2016.
The contract value was not disclosed, but a relatable comparison would be 1,070MW CCGT plant in Penang operated by Tenaga Nasional Bhd, which cost RM2.47 billion when its contract was signed in November 2012.
On the open market, Tadmax had some 4.25 million shares traded. The counter closed 1.16% or 0.5 sen lower at 42.5 sen, valuing the company at RM207.92 million.