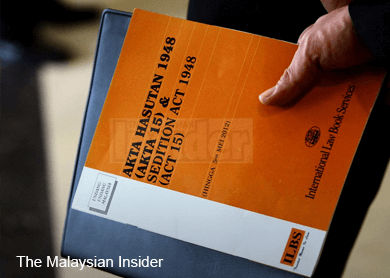 KUALA LUMPUR: In just seven years, from 2008 to 2015, Putrajaya has investigated 409 cases under the Sedition Act 1948, the Home Ministry said yesterday.
But the number of people charged represents only 6% of the total cases investigated, the ministry said in a written reply to Sim Tze Tzin (PKR-Bayan Baru), adding that 138 investigations were later classified as no further action (NFA).
Putrajaya had previously promised to abolish the colonial-era law but later backtracked on the pledge and instead chose to strengthen the controversial Act.
There are still 99 cases under investigation, while 116 more were returned by the Attorney-General's Chambers for further investigation.
Thirty cases have been referred to the Deputy Public Prosecutor, the ministry's reply said.
Sim said that he was "shocked" by the answer, adding that the government had nothing to be proud of and should instead be "ashamed" for backtracking on its promise to repeal the Act.
The government had in the last Parliament sitting passed amendments to the Sedition Act which included expanding its scope to include talking about secession, imposing a prison term of up to three years, and removing bail for offenders.
The amendments also no longer held as seditious criticism of the government and of the administration of justice, but added promoting hatred between different religions as an offence.
Sim said he was worried that Malaysia's global standing would be affected as it currently has a seat on the United Nations Security Council and is also the chair of Asean.
"Malaysia should improve on its freedom of speech and human rights," he said.
Since late last year, a slew of opposition leaders, activists and journalists have been arrested under the act. — The Malaysian Insider
This article first appeared in The Edge Financial Daily, on June 19, 2015.