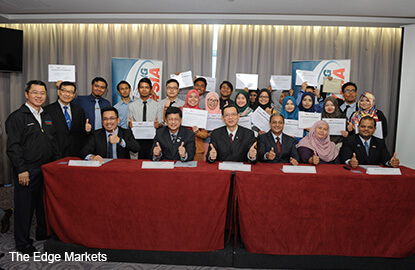 KUALA LUMPUR (Aug 26): Over 250 final year students have been trained and successfully placed as interns and subsequently absorbed by industry under the Graduate Employability Management Scheme (GEMS-SSO) programme conducted by Outsourcing Malaysia (OM), a chapter of the Computer and Multimedia Association of Malaysia (PIKOM), together with several local universities.
In a statement yesterday, PIKOM and OM said that as a joint initiative by OM, Malaysia Digital Economy Corporation (MDEC) and Talent Corporation Malaysia Bhd (TalentCorp), the GEMS-SSO is Malaysia's global business services (GBS)-focused track under TalentCorp's GEMS programme aimed at providing industry exposure to final year university students prior to graduation.
They said the programme was co-funded by TalentCorp together with industry partners from the GBS sector.
Since the programme's inception in 2014, over 250 final year students have been trained and successfully placed as interns and subsequently absorbed by industry, said PIKOM and OM.
The latest graduation ceremony saw students from five local universities — University Kebangsaan Malaysia (UKM), Universiti Teknikal Malaysia Melaka (UTeM), Universiti Malaysia Sarawak (UNIMAS), Multimedia University Malaysia (MMU) and Universiti Tun Hussein Onn Malaysia (UTHM).
Validated by industry, delivered by academia and supported by the government, the programme has received support from local universities who offer the 10- to 12-day training programme to their final year students.
OM chairman Cheah Kok Hoong said the GEMS-SSO programme was conceived when in 2014, the OM Talent Council teamed up with Talent Corp and MDeC to train undergraduates while still in university.
"It is a win-win solution for all. The universities can offer value added industry relevant knowledge while students are able to enhance their skillset and increase their employability rate. At the same time, the GBS industry has a solution to bridge existing talent gaps," said Cheah.
Cheah explained that under the GEMS-SSO programme, undergraduates undergo 10–12 days of intensive training with specialisation in human resources (HR) or finance.
He said the training was internationally certified and delivered by the International Association of Outsourcing Professionals (IAOP) qualified trainers.
In addition, students are required to sit for the globally recognised Certified Outsourcing Specialist IAOP certification examination as well as undergo a minimum of ten weeks to six months of internship with a GBS company, he said.
Cheah said graduates are certified by IAOP as Certified Outsourcing Specialists.
"The biggest segment of demand for GBS is in the area of HR and Finance, hence the emphasis on these two skillsets. The onus now is to bring the GEMS-SSO programme to more Malaysian undergraduates nationwide," said Cheah.