This article first appeared in Personal Wealth, The Edge Malaysia Weekly, on June 24, 2019 - June 30, 2019.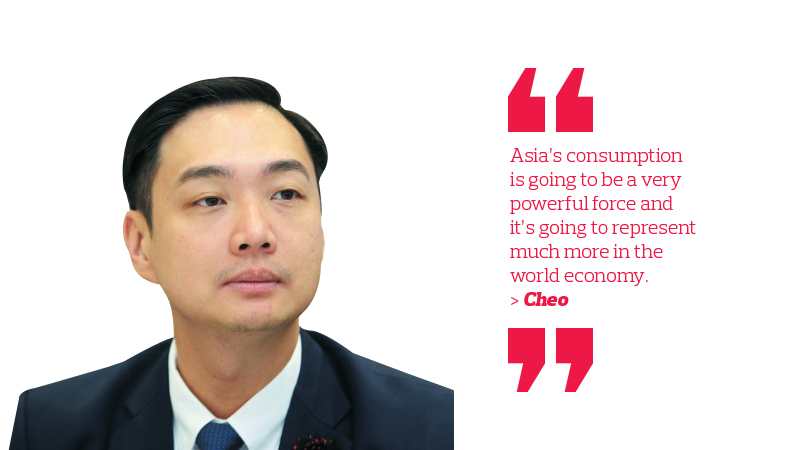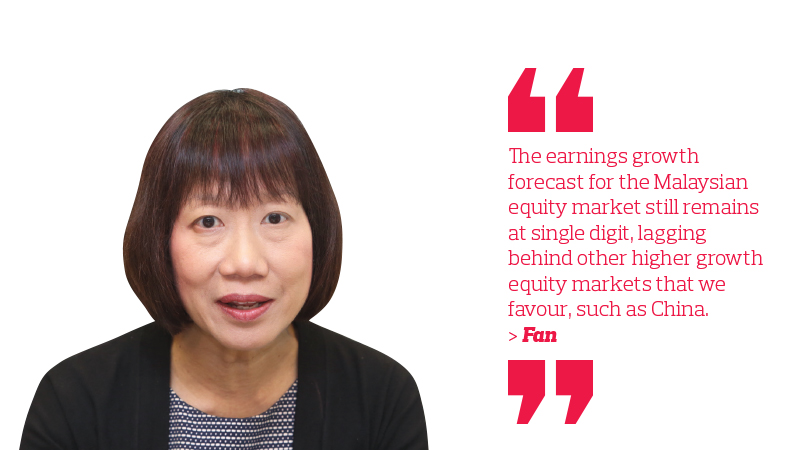 The consumer sector in Asia will stay resilient amid global uncertainty in the second half of the year (2H2019). The sector has been benefiting from rising wages and government incentives in the US and rising private wealth in Asia, says HSBC Private Banking.
Consumption in the region is set to grow exponentially in the coming decade. HSBC Private Banking chief market strategist in Southeast Asia James Cheo says the firm projects that in 2030, the biggest economy in the world will be China, followed by the US, India and Southeast Asia.
"Asia's consumption is going to be a very powerful force and it's going to represent much more in the world economy. It's going to [comprise] a larger portion of growth in the future," he says in HSBC Investment Banking's investment outlook for 2H2019.
Data has shown that consumer demand has been decelerating since last year due to macroeconomic trends such as slower global growth, concerns about the escalating US-China trade war and volatility in financial markets around the world. However, several reports have noted that the longer-term prospects for the sector remain solid, with the International Monetary Fund forecasting that developing and emerging Asia will grow 6.3% annually on average between 2019 and 2024. As healthy growth continues, incomes are expected to rise. According to an EY report, two-thirds of the global middle class will be residents of Asia-Pacific by 2030.
According to HSBC Private Banking, China is on track to overtake the US as the world's largest retail market this year, thanks to the rapid expansion of its e-commerce market. The working-age population in China, South Korea, Singapore and Thailand has started to shrink. However, as Asian consumers age, they are entering the prime consumer age groups with high annual spending.
There are several ways to tap the consumer sector, including through e-commerce and entertainment, the bank says. The e-commerce sector is expected to outperform because with the rise of consumption, everyone would want their products to be cheaper and delivered quicker. "E-commerce platforms that cater for consumption in Asia will do very well," says Cheo.
Meanwhile, the entertainment sector is going to take an interesting turn as consumers nowadays want more experiences, he adds. "In terms of consumption, it's going to be different. [Consumers] want an experiential kind of consumption, so companies that can tap that sort of psychology will do very well."
The focus of consumers today is largely on services rather than products because on top of enjoying the experiences, consumers get satisfaction when they post what they have done on social media platforms, such as Instagram.
"When they go on their travels and visit exotic places and consume their products, there is always an element of social media and technology, so I think that is going to be the pattern in the years to come," says Cheo.
Another theme that will stay resilient in the second half of the year is the Fourth Industrial Revolution. HSBC Private Banking highlights 5G as a critical part of this revolution as it will significantly improve network capabilities and enable new functionalities for consumers and enterprises, including the Internet of Things, autonomous cars, remote surgery, smart factory, smart city and fintech.
"5G will enable data to be transmitted so fast that it will enable autonomous driving because you don't want any lag [time] there. It will also enable smart factories, in which machines will start to work with humans, and other things that will increase productivity and efficiency in many of our industries."
Cheo says China is the leading nation in the rollout of 5G. "It has five million base stations and many parts of the country are already 5G-ready. In that sense, China is leading and this is creating very interesting opportunities."
In a press release accompanying the outlook, Cheo states that the global rollout of 5G is unstoppable, even with the ongoing trade tensions.
"Winners of the 5G revolution include telecommunications companies as well as 5G hardware, software and infrastructure providers. Telecoms services and semiconductor sales should benefit from the global development of 5G and from continued growth in the internet of things, the use of artificial intelligence and the need for more powerful data centres."
The global outlook
In 2H2019, dovish central banks, China's policy stimulus, resilient consumer demand and technological innovation are set to extend the global economic cycle further and support riskier assets, says HSBC.
Fan Cheuk Wan, chief market strategist for Asia at HSBC Private Banking, says this expectation is a result of a decent rebound in risky assets in the first four months of the year, following changes to the US Federal Reserve's monetary policy.
"US Federal Reserve chairman Jerome Powell indicated that the Fed was ready to take appropriate actions to expand the economic cycle, so currently, HSBC's view remains that the Fed will enter into a policy easing cycle in 2020," she says.
"We expect at least two rate cuts next year but the latest US non-farm payrolls data did underpin the risk that we may see earlier-than-expected Fed rate cuts."
The bank remains overweight on global equities with a preference for US and Asia ex-Japan for the next six months. Within Asian equities, it maintains a mild overweight position on China and Singapore. On fixed income, it favours short-duration credit in the US and Asia.
Fan says HSBC's current investment strategy reflects its consideration of three key drivers — fundamentals, valuations and the tactical factor of investor positioning. With the lingering uncertainty over trade tariffs, the bank believes global policymakers will take more decisive action to mitigate the trade tension risks, she adds.
Meanwhile, the valuation of the market has dropped to a less demanding level. Fan says HSBC sees the recent pullback as providing attractive opportunities to long-term investors to get into good quality and more defensive investment opportunities.
Within HSBC's Asian equity portfolio, she says it is still cautious about the Malaysian equity market, mainly because of its expensive valuation compared with some of its regional peers.
"The earnings growth forecast for the Malaysian equity market still remains at single digit, lagging behind other higher growth equity markets that we favour, such as China," she adds.
HSBC's year-end target for the ringgit is 4.30 against the US dollar while that for the FBM KLCI is a 4% upside to 1,740.