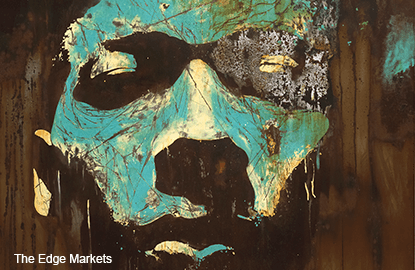 This article first appeared in The Edge Financial Daily, on December 7, 2015.
It's about time that the art at home goes beyond just a framed painting on the wall, and Core Design Gallery is keen to show that with its latest group exhibition, X Canvas. 
Stepping into the two adjoining double-storey converted houses in SS15, Subang Jaya,  a three-dimensional metal wire sculpture horse, Si Kuda Hitam by Jamil Zakaria, greets you. Attached to the wall, it forms a centrepiece for the house-format gallery. 
Across the open space, Faizal Suhif's cement block engraving The Promised Land hangs. "It started with the idea of no canvas, or ex-canvas" says gallery director and curator Scarlette Lee. "When you talk about canvas, the idea is always two-dimensional paintings, and we wanted to push the form itself, as well as use other materials and mediums." 
The drive for X Canvas stems from what she observed as a slow, stagnant year creatively in the contemporary art scene this year. "Everyone seems to have been following a production mode, churning out same, similar works. Why do the same old thing? Can we try something different?"
All nine artists presenting were selected as they were working on something that shared X Canvas' concept in their practice. "It's a very exciting show. These are really world class, just not recognised enough" enthuses Lee, "One can see established artists like Suhaimi (Fadzir) and Masnoor (Ramli Mahmud), and then the younger ones like Haafiz (Shahimi) and Faizal … there is a painter like Ali Nurazmal that is pushing beyond their sculpted brushstrokes, and then we have Al-Khuzairie (Ali), who has moved from his two-dimensional ceramic works to a wholly three-dimensional one, " adding that it took Jamil one year of exploration with wire to create his sculpture. 
The two emerging printmakers, Haafiz and Faizal, embody the concept of the show quite literally. Both swapped their tools as their "canvas" for this exhibition. 
Having worked with metal printmaking and pyrography, Haafiz's portrait, The Reminder: A Sign From Destruction, can be easily mistaken as a painting. He tells live it! that the rusted metal "portrait" of his friend was created with chemicals such as hydrogen peroxide, vinegar, salt, bleach and even tap water. Enamel paint was used to create a patina effect. 
"I like the thrill of accidental results … kind of like a scientist," smiles the soft-spoken artist, "What inspires me is the possibility of anything," he adds. 
Self-confessed kampung boy Faizal shares the sentiment. "This is the first time I'm using the cement block to display, usually I only use it for print making. I wanted to show a different image this time. The printmaking's final image is usually different from the block, so this time I showcase the block itself in a sense." 
Inspired by nature's motifs, the blocks are painstakingly etched and chiselled, then arranged to form a narrative. "Each image delivers a certain message or meaning, if one is taken out, it can be something else. You can form your own narrative," explains Faizal. 
Since its opening five years ago, Core Design Gallery has set out to champion Malaysian contemporary artworks and artists. It's also a personal cause for pharmacist-turned-curator Lee. "Different medium works have always excited me more than anything else. I like to see the artist push boundaries. To see the experimental process and research by the artist come together." 
She believes that the Malaysian art market shares that excitement as well. "We have definitely progressed in the last five years," commenting that even as near as 2013, the market was not as responsive to shows like these. 
Gesturing to Masnoor's video and photography installation, Moulding The History: A Child And Monsters They Made, she points out that the established artist begun doing video art years ago, but only now people are beginning to be receptive to the form. 
Contending that these works are collectibles and can very much "hang" in a home, Lee claims, "As you can see, our gallery is based on a house format. It actually enables people to envision how it hangs on a wall or is seen in a home. I personally collect as well."
The director says exposure and society's progress has contributed to a "very healthy market" for new forms of contemporary art. "The market surprises us … I think with globalisation and Malaysians [being] more exposed than ever, these things no longer surprises them," she observes that rather, the art buyers and collectors who walk-in — the 30-somethings and 40-somethings especially — are well versed and interested. 
 "I think those days where people would buy what we call works that are 'manis-manis', pretty paintings … we are no longer in that era," reiterates Lee. The value of contemporary artwork, she says, is not in its aesthetic alone.  
Calling it the three 'P's', Lee says the artist's past work plays a role in forming its value, along with the context and relevance in his or her present work, and finally the personal reflection and thought process that has gone into it. After all that, "The final work must [be] effectively conveyed — to say it well enough." 
X Canvas is exhibiting at Core Design Gallery, No.87, Jalan SS15/2A, Subang Jaya, until Jan 15, 2016. For more information, visit www.coredesigngallery.com or call (03) 5612 1168.