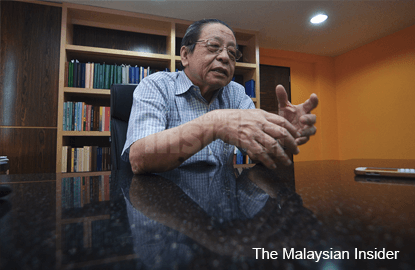 (July 16): Removing Datuk Seri Najib Razak from his post as prime minister is not enough to bring reforms, the DAP said today, asking if there was any leader who could stand up to chart the country on a new course of change in governance and administration.
DAP parliamentary leader Lim Kit Siang said this was the most urgent call at the moment, if there was someone who could bring about real change and was committed to reforms, now that former opposition leader Datuk Seri Anwar Ibrahim was in prison.
"With Anwar incarcerated in Sungai Buloh prison, is there anyone else who could surface to stitch together a 'Save Malaysia' coalition with the support of at least 112 MPs to reset the country on a new course of comprehensive change in the governance and administration of the country?
"This is the most urgent call of the moment, as to whether in the 'worst of times', Malaysia can find the resilience and resources to craft the 'best of times'.
"There is no greater challenge than this political transformation to Malaysians celebrating this year's Hari Raya Aidilfitri," Lim said in his Hari Raya message today.
He said removing an embattled Najib, who has been in the centre of several financial scandals recently, alone was not enough but what was needed was a "serious commitment" to reform and bring an end to corruption.
"These concerns are reflected in Datuk Seri Anwar Ibrahim's Hari Raya message from Sungai Buloh prison, where he rightly warned that merely removing Najib from power without real reforms will not bring about meaningful change other than benefitting certain cronies.
"Anwar is right as based on past experience, removing Najib alone is 'not enough'. We do not want piecemeal solutions but a serious commitment to reform and the end of corruption," he added.
Lim allayed concerns that even removing Najib would be an uphill task as despite his current unpopularity, it was said that the prime minister would survive the political onslaught against him.
"Although no prime minister in nearly six decades of the nation's history had been beset with so many political and economic problems, with his international image suffering unprecedented battering, the betting is that Najib will survive the political onslaught.
"Najib must now be the most unpopular prime minister in the nation's history, even more unpopular than Mahathir during the latter's most unpopular period when he sacked and imprisoned Anwar but Najib's chances of political survival score a high rating because of his command and control of government and Umno and Barisan Nasional resources," Lim said in reference to former prime minister Tun Dr Mahathir Mohamad.
"Is it possible to bring about comprehensive change in the governance and administration of the country even before the 14th general election in two or three years' time, unless Najib changes his whole game plan to expedite early polls?" he said.
This was only possible if there were at least 112 parliamentarians, or half the number of lawmakers in the house, who would unite on a common national policy to save the country from becoming a failed state, Lim said.
"This is no easy task as already two top leaders of an opposition party have broken ranks, providing even stronger support to the prime minister than Najib is getting from his own party and coalition," he said, referring to Islamist party PAS.
Ramadan sales this year, the Gelang Patah MP said, had been poor and dispirited, with an estimated plunge in sales of up to 20% from last year's record during the fasting month.
"Never before have national issues been so dominant during Ramadan and in Hari Raya Aidilfitri open houses – questions galore about the catalogue of financial scandals, breakdown in law and order with Low Yat race riot less than a week from Hari Raya and what the future has in store for the people and the country."
Najib, who is facing the toughest time of his career, has been dogged with the scandals surrounding 1Malaysia Development Berhad, and the latest allegation that billions of ringgit from state-owned funds were deposited into his personal accounts.
Lim said this was coupled with the falling ringgit, "burdensome" goods and services tax (GST) and rising inflation.
Dr Mahathir had also repeatedly called for Najib's resignation following these scandals. – The Malaysian Insider