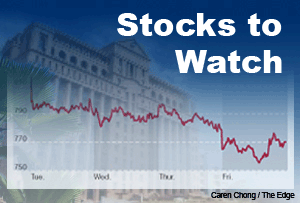 KUALA LUMPUR (Oct 15): Based on announcements and news flow today, some of the stocks that may garner interest tomorrow (Thursday, Oct 16)include OSK Holdings Bhd, OSK Property Holdings Bhd, PJ Development Holdings Bhd, Ibraco Bhd, OpenSys (M) Bhd and Zhulian Corporation Bhd.
OSK Holdings Bhd has proposed to acquire OSK Property Holdings Bhd and PJ Development Holdings Bhd (PJD), as the former plans to diversify into property development and construction, manufacturing of building materials, as well as hotel and leisure.
In a statement to the exchange, OSK said it has entered into conditional share sale agreements with vendor Tan Sri Ong Leong Huat and parties acting in concert to acquire 177.6 million shares or 73.6% in OSK Property at RM2 per share, and 143.36 million shares or 31.7% stake in PJD at RM1.60 per share, via the issuance of new OSK shares at RM2 per share.
Following that, OSK has proposed a mandatory takeover for the remaining 26.4% stake that it does not own in OSK Property, and also a voluntary takeover of the remaining 68.3% equity in PJD. OSK Property and PJD closed at RM2.27 and RM1.67 respectively, today.
"The board is of the view that the additional source of income stream from the proposed OSK Property acquisition and the proposed PJD acquisition are expected to enhance OSK Group's earnings and improve the financial position of OSKH Group," said the group.
OSK also proposed a bonus issue of up to 237,740,204 warrants on the basis of one warrant for every four shares held, and a declaration and payment of a special cash dividend of 15 sen per share.
OSK closed six sen or 2.8% lower at RM2.08, giving it a market capitalisation of RM1.98 billion.
Property developer Ibraco Bhd has entered into a memorandum of understanding (MOU) with its 70%-owned subsidiary Ibraco HGS Sdn Bhd, to jointly develop 12 parcels of mixed-zone land in Kuching, Sarawak.
In a filing with Bursa Malaysia, the company said it owns 11 pieces of the land, out of the 12 parcels, while one parcel is owned by Ibraco HGS. Ibraco did not disclose the size of the land in its statement to the exchange.
The development will consist of 112 units of 3-storey shop houses and 4 units of educational plots.
"The development lands are contiguous in nature and as such, Ibraco and Ibraco HGS would be able to maximise returns if they were jointly developed. Ibraco have already successfully developed the surrounding areas and are confident that the proposed joint development would be equally as successful," said the company.
Ibraco closed 7 sen higher at RM1.67, bringing its market capitalisation to RM211.26 million.
OpenSys (M) Bhd Executive Director Tune Hee Hian has acquired 1 million shares or a 0.45% equity interest in the company, for RM333,684, from the open market recently.
In an announcement with Bursa Malaysia today, Opensys, a financial software and system solutions provider, said that Tune has acquired 368,400 shares on Oct 10 at 34 sen apiece, and an additional 631,600 shares on Oct 13 at 33 sen per share.
Following the acquisition, Tune owns 2.98 million shares or 1.34% direct interest in the company, and 1 million shares or 0.45% indirect stake in the company.
After climbing to an intraday high of 32.5 sen earlier, Opensys closed unchanged at 30 sen today, with some 2.88 million shares changing hands. Its market capitalisation was at RM70.38 million.
Zhulian Corporation Bhd saw its net profit plunge 73.8% to RM10.4 million in the third quarter ended Aug 31, 2014, from RM39.6 million in the previous corresponding quarter.
Revenue also plummeted 54% to RM57.2 million, from RM124.1 million a year earlier.
The company declared a third interim single tier dividend of 2 sen per ordinary share in respect of 3QFY14, making its total dividends at 8 sen year-to-date.
According to a filing to Bursa Malaysia, Zhulian's net profit for the nine-month period also came in sharply lower at RM35.8 million, versus RM107.3 million in the same period last year.
Revenue meanwhile had reduced sharply to RM188.9 million, from RM339.1 million a year ago.
Zhulian, which is a multi-level marketing firm specialising in jewelleries, attributed the decrease in earnings to be in line with the drop in revenue, which was mainly due to a fall in both local and overseas market demands.
The stock closed 1 sen lower at RM2.35 today, with a market capitalisation of RM1.09 billion.