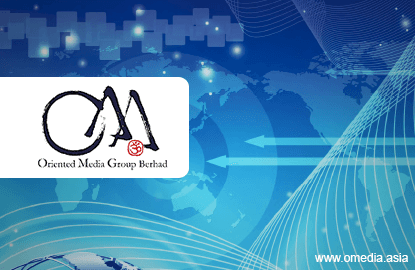 KUALA LUMPUR (Nov 16): ACE Market-listed Oriented Media Group Bhd has set its sights on growing its e-commerce business in China and is optimistic about the country's huge e-commerce market.
In a statement today, Oriented Media said the company is well focused to develop their innovative technology and also bring in suitable talents to accommodate the rapid development and demands of the market, and will focus on the segments of software technology service, mobile internet, e-commerce operations planning as well as e-commerce business platforms.
Oriented Media group executive director Zhu Guohe said Fujian Accsoft Technology Development Co Ltd, which is a subsidiary of the group, has registered a significant business growth in the third quarter, with profit amounting to 260,000 renminbi (approximately RM178,500).
"Though the subsidiary is newly established, we commit ourselves to provide quality services to our clients in every possible way and we will work with our partner Fujian Jin-Jiang E-Commerce Development Co Ltd to explore business opportunities together in the Chinese market.
"Fujian Jin-Jiang has nearly a thousand merchants settling in, which will become the strong backing element of the company's future business development and technical support," said Zhu.
He also pointed out that China has a huge e-commerce market, and the mobile internet spending market is on an uprising trend, whereby it is believed that it will be compatible with the company's business growth plan in the Chinese market.
Fujian Accsoft had on October this year inked the strategic cooperation framework agreements with Fujian Jin-Jiang to carry out mobile application and software upgrading works.
The agreements will see Fujian Jin-Jiang provide technical support to improve and optimise mobile applications and software, which in turn would provide a more professional and comprehensive consumer experience to the e-commerce platform users.
"China has become a global platform for e-commerce businesses especially since it has been recognised as the country with the strongest spending power in the e-commerce market," said Zhu.
"Online economy is one of the Chinese government's main focuses right now, in which it is included into China's economy transformation strategy. Currently, China has about 650 million internet users and online shopping has accounted for more than 10% of the total consumer goods retail sales," he added.
The group added that the "double-eleven" online shopping festival falls on Nov 11. The third "double-eleven" online shopping festival, hosted by e-commerce giant Tianmao (tmall.com) alone has achieved a turnover of 91 billion renminbi (approximately RM62.5 billion).
"If it was to sum up with other online shopping platforms such as JD.com, gome.com, suning.com, yhd.com and vip.com, the double-eleven online shopping festival turnover would exceed 150 billion renminbi (RM103 billion), compared with last year's turnover of 57.1 billion renminbi (approximately RM39.2 billion) by Tianmao," said Oriented Media.
"According to statistical data from Alibaba.com, within the first 90 minutes of the transaction day, mobile-online transactions accounted for up to 72% of the total turnover value, and this is a significant jump from 45% last year. At the end of the day, it was recorded that mobile-online transactions have contributed 68% of the total turnover value.
"Our partner, Fujian Jin-Jiang has also performed well in the 'double-eleven' online shopping festival this year, with nearly 400 merchants participating in the event and achieving total sales of 60 million renminbi (RM41.38 million)," added Zhu.
As at 3.53pm today, Oriented Media shares were trading up 2.5 sen, or 5.6%, at 47.5 sen, with a market capitalisation of RM96.07 million. Year to date, its share price has more than tripled from 13 sen on Dec 31 last year.
(Note: The Edge Research's fundamental score reflects a company's profitability and balance sheet strength, calculated based on historical numbers. The valuation score determines if a stock is attractively valued or not, also based on historical numbers. A score of 3 suggests strong fundamentals and attractive valuations.)