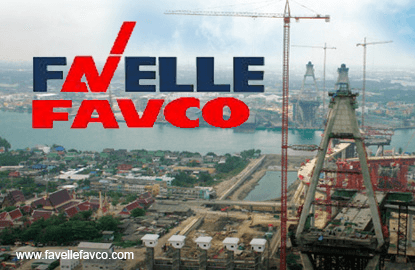 Favelle Favco Bhd
(Aug 4, RM2.74)
Maintain buy with a target price (TP) of RM3.30: Favelle Favco Bhd announced its new purchase orders yesterday of RM52.8 million for the period June 1 to Aug 3, 2015. Its orders mainly consist of offshore cranes and tower cranes.
With these new orders, Favco's current outstanding order book should be approximately RM900 million to RM950 million. The majority of the order book consists of oil and gas cranes for the offshore oil and gas exploration and production activities. The remainder is from the shipyard, construction and wind turbine industry
The cumulative new contract value of RM138.5 million secured from January to August this year only accounts for 54% of the total contract value of RM255.3 million secured during the same period last year. This is the lowest cumulative contract value secured since 2010. However, taking into consideration the less-than-exciting oil and gas environment compared to yesteryears, this amount is considerably good and within our new orders replenishment forecasts.
Despite Favco's sideway stock price performance (RM2.65-RM2.93) throughout most part of this year, we are still recommending a "buy" on Favco based on two reasons: (i) Considerably low price-earnings ratio (PER) and (ii) Attractive dividend yield. Although we are expecting earnings to be relatively flat, we are still expecting dividend yields to continue to be in excess of 4% for this financial year and the next. This assumption is premised on its net cash position and very low capital expenditure requirements (less than RM10 million).
No impact on earnings at this current juncture as the new order replenishment is within forecasts.
We are maintaining our "buy" recommendation with an unchanged TP of RM3.30 per share. Our TP is based on expected earnings per share for the financial year ending Dec 31, 2016 (FY16) of 41.3 sen pegged to price-earnings ratio (PER) of 8 times, which reflects its average monthly rolling PER for the past three years. — MIDF Research, Aug 4
This article first appeared in digitaledge Daily, on August 5, 2015.