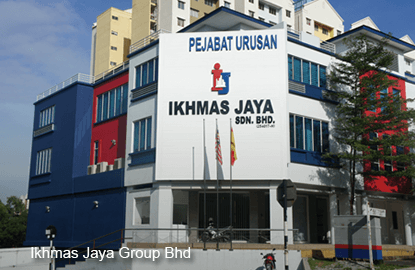 Ikhmas Jaya Group Bhd
Subscribe with a fair value of 70 sen: Ikhmas Jaya, an established bore piling specialist with a track record of approximately 12 years, is able to propose alternative design options to its customers at lower cost and without compromising quality and functionality. Hence, the ability to propose lower-cost solutions provides competitive advantage for the group to win tenders for bore piling works.
Ikhmas Jaya has been enjoying robust earnings growth for the past few years, with a four-year compound annual growth rate of 37%.
Looking forward, Ikhmas Jaya has an outstanding order book of RM346 million, coupled with a total tender book amounting to RM4.2 billion (submitted RM3 billion worth of tenders thus far with another RM1.2 billion to be submitted for the next six months).
Based on historical success rates of 15% to 20%, we expect Ikhmas Jaya to bag RM630 million to RM840 million worth of new jobs in coming months.
Ikhmas Jaya owns a diversified machinery and equipment (M&E) division to support its core business activities. This enables the group to undertake sizeable and various types of piling jobs at the same time without any capacity constraint, coupled with lower costs.
Upon listing, net book value of Ikhmas Jaya's M&E division will stand at approximately RM90 million, which is comparable with other significant piling contractors in town, like Econpile Holdings Bhd (RM107.8 million) and Pintaras Jaya Bhd (RM86.5 million).
Almost all of Ikhmas Jaya's income was derived from piling and foundation works, and construction of bridges, and hence future cash flow and earnings are highly dependent on projects secured.
Subscribe with a fair value of 70 sen. We peg Ikhmas Jaya's valuation at a price-earnings ratio (PER) of 12 times, with financial year 2015 earnings per share of 5.8 sen per share, which is on par with other listed piling and foundation work contractors' average forward PER.
We believe the PER of Ikhmas Jaya could match its peers upon listing, as the group is trading at 9.8 times 2015 forecast PER based on a listing price of RM0.57, as compared with Econpile and Pintaras Jaya, which are currently trading at 13.3 times and 12.1 times 2015 forecast PER, respectively. — JF Apex Securities Bhd, July 6
This article first appeared in The Edge Financial Daily, on July 7, 2015.