This article first appeared in The Edge Financial Daily, on April 26, 2019.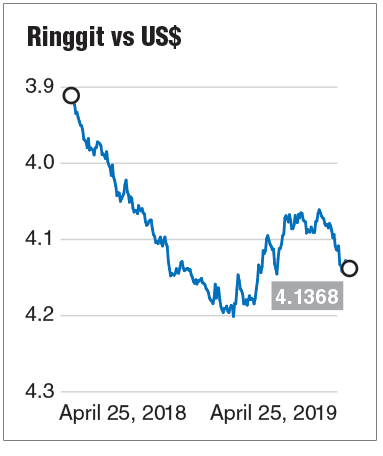 KUALA LUMPUR: The widely-expected cut in the overnight policy rate (OPR) next month is not likely to add further volatility to the ringgit given that the market has already priced in the move.
Speaking at an investment conference titled "Investing for Tomorrow: 2019 Outlook & Opportunities", organised by RAM Rating Services Bhd yesterday, UOB Malaysia senior economist Julia Goh said it is justifiable for Bank Negara Malaysia (BNM) to reduce the OPR judging from the latest data on the economy, which indicates slowing economic growth.
"Before the FTSE Russell concern, we thought the probability of a cut was a lot higher. Obviously, we don't want to be downgraded, [and] the question is if they cut, [will] there be an impact? I personally think it shouldn't," she said.
"Because if you look at the market, it has very much priced in the cut. Two-thirds of the interest rate swap [has been] priced in the cut, and [in] the latest surveys by all the researchers, the estimated probability was close to 50% for a cut," she added.
Last week, FTSE Russell said it may drop Malaysian bonds from the World Government Bond Index in its September review, but will engage with the local regulator and market participants before making such a decision.
Meanwhile, Socio-Economic Research Centre executive director Lee Heng Guie, who was also present at the conference yesterday, said he expects BNM to accord priority to growth given the subdued inflation risk while allowing the ringgit to adjust according to the inflows and outflows of capital.
"There is an even chance for it (a cut) to happen. Based on the first quarter numbers, the gross domestic product could come in around 4.4%. I think the central bank would be looking at a threshold of around 4% that will trigger it to cut but that was before the concern over the impact from the potential exclusion of Malaysia from of the World Government Bond Index by FTSE Russell, which had dampened the ringgit against the US dollar recently.
"Now some investors are starting to weigh on whether the central bank would consider cutting [the] interest rate on concerns that it may cause further weakness in the ringgit," he noted.
UOB's Goh also said should a cut materialises, it could also ease borrowing costs for economic activities, especially when the government revived certain mega infrastructure projects.
"If they cut, it will be a reversal of the hike in January last year. It will also help ease the cost of borrowing especially as more infrastructure projects are expected to come on stream," she said.
The OPR hike was a 25-basis point increase in January 2018 to 3.25%. The next Monetary Policy Committee meeting is on May 7.