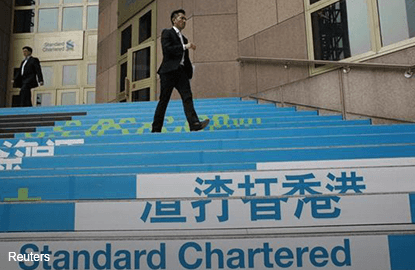 This article first appeared in
The Edge Financial Daily
, on November 18, 2016.
KUALA LUMPUR: Standard Chartered Bank's global research unit said it now expects Bank Negara Malaysia (BNM) to cut the overnight policy rate (OPR) only in the later part of the first quarter of 2017 (1Q17).
In a note yesterday, StanChart said it has revised its earlier expectation for a 25-basis point cut in the OPR by BNM at its final Monetary Policy Committee meeting for the year next Wednesday.
"The Malaysian economy remains soft; however, we see room for BNM to keep the OPR unchanged at 3% on Nov 23," it said.
The research unit said Malaysia's recent economic data showed signs of stabilisation, albeit at weak levels.
"Gross domestic product (GDP) growth for 3Q16 surprised to the upside at 4.3% year-on-year (y-o-y), bringing the nine months ended September 2016 GDP growth to 4.15% year-on-year.
"This was within the government's growth forecast of 4% to 4.5% for 2016, whereas first half of 2016 (1H16) growth of 4.05% was just above the low end of the range," it said.
StanChart is of the view that the risks to the Malaysian economy remain to the downside.
"Private consumption may have been boosted by measures such as voluntary cuts to the employee pension fund and minimum wage hikes, [while] one-off payouts to civil servants may have helped bolster spending.
"However, labour metrics continue to soften. In September, the seasonally adjusted unemployment rate rose to 3.5% and employment growth remained lacklustre at 0.7% y-o-y.
"High household leverage may also encourage people to save as labour conditions deteriorate further," it said.
The research department noted that loan performance continues to suggest tepid investment sentiment.
"Loan growth slowed to 4.2% y-o-y in September. Outstanding loans may have stabilised month-on-month, but loans disbursed continued to contract for the fourth consecutive month in September," it said.
Meanwhile, StanChart noted that the country's external demand remains soft, with 3Q16 merchandise export volumes falling 1.1% y-o-y from 6.1% y-o-y growth in 1H16.
Based on GDP data, exports of goods and services fell 1.3% y-o-y in 3Q16, deteriorating from the 0.2% decline in 1H16. Imports fell more than exports in 3Q, mitigating the negative impact on GDP growth.
"Although BNM recognises the challenging global economic conditions, we believe that further deterioration will require a monetary policy adjustment.
"Potential trade protectionist policies from the US and a hard impact on euro-area growth from Brexit are key risks that need monitoring.
"China remains the elephant in the room, but growth risks in the country appear stable for now," it said.
StanChart said it will also be keeping a close watch on the impact of the related uncertainty of Donald Trump's victory in the recent US presidential election on Asian financial markets.