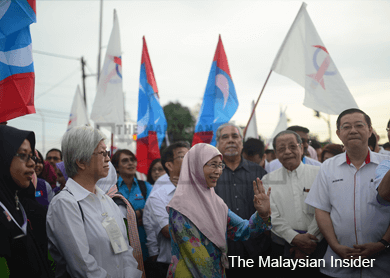 pakatan_rakyat_permatang_pauh_nomination_250415_tmihasnoor_01
KUALA LUMPUR: A new opposition coalition without PAS will only be stronger and more stable, analysts said, after DAP announced on Tuesday that the seven-year-old Pakatan Rakyat pact is over.
Not only do DAP and PKR have more similarities than differences, the analysts said, but they would also now understand the importance of ironing out ideological issues before proceeding further.
A coalition without PAS would be preferable, especially if it could attract the progressives in the Islamist party sidelined at the recent PAS muktamar (general assembly), said Dr Wong Chin Huat, a political scientist from the Penang Institute.
"A coalition would be naturally stronger if they have more in agreement than in disagreement," he told The Malaysian Insider.
Wan Saiful Wan Jan, head of think tank Institute of Democracy and Economic Affairs, agreed, saying he believes that PAS would collapse, pushing forward a more modern and sophisticated Islamist party that would be part of the new coalition.
"But I don't think it will be PasMa (Persatuan Ummah Sejahtera Malaysia) because the new party needs to have key progressive figures and PasMa does not have them," he said, referring to the PAS splinter group that supports continued collaboration with Pakatan allies DAP and PKR.
Political analyst Khoo Kay Peng said the new coalition would be a lot more stable, predictable and cohesive than Pakatan was, noting that DAP and PKR should look at Barisan Nasional (BN) as an example of those characteristics.
"We cannot discount the fact that BN, as a coalition, is a lot more cohesive and stable. They have had years of experience and have been in power for so long. To compete with BN, the new coalition has to be just as united."
DAP announced on Tuesday that Pakatan had ceased to exist, adding that it would only work with PKR and "other forces" to end BN's hold on federal power.
The political observers said DAP was only stating the obvious as Malaysians already know that Pakatan, which managed to deny BN its traditional two-thirds majority in Parliament in the 2008 and 2013 elections, was finished in the last few weeks.
PAS, at its recently concluded muktamar, agreed on a motion to sever ties with DAP without debate. This came about after DAP decided to cut its ties with PAS president Datuk Seri Abdul Hadi Awang, but said it would continue to work with the party.
Khoo said Pakatan's break-up could, in fact, be a blessing in disguise as it gives DAP and PKR the opportunity to learn from their mistakes made in the coalition.
"It is a good lesson and now they have to regain the trust that the people have put in them, as what BN previously accused them of being — a marriage of convenience — has now been proven to be true."
The analysts also brushed off talk that the Selangor state government would fall with the collapse of Pakatan, but agreed that PAS and DAP could no longer work together in a government. — The Malaysian Insider
This article first appeared in The Edge Financial Daily, on June 18, 2015.