This article first appeared in The Edge Financial Daily, on April 13, 2020.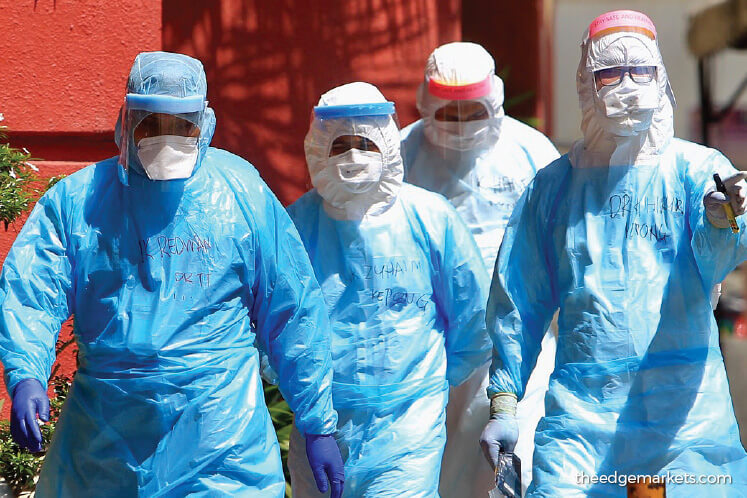 KUALA LUMPUR: While the enforcement of the movement control order (MCO) has resulted in many companies being unable to conduct their businesses as usual, some have seen opportunities in the midst of this crisis and branched out into the production and distribution of medical products and equipment that are seeing an unprecedented surge in demand in the fight against the Covid-19 pandemic.
Among these are personal protective equipment or PPE such as face masks and shields for medical frontliners and diagnostic products.
Just last week, Notion VTec Bhd, which is involved in the manufacturing of precision-machined components, placed an order for the necessary machinery to begin producing PPE. It expects to start production by end-May. The products will abide by standards set by the International Organization for Standardization and will be sold locally.
After the announcement was made last Thursday, Notion VTec's share price rose 3.4% to close at 77 sen last Friday.
Another company that has ventured into the manufacturing of PPE, specifically face shields, is food packaging producer SCGM Bhd.
In an interview with The Edge Financial Daily about two weeks ago, SCGM executive chairman Datuk Seri Lee Hock Seng said it had received a significant amount of orders from hospitals in Malaysia and Singapore as well as from other parts of the world.
The group indicated that it will be focusing on producing face shields, with a quarter of its workforce involved. It is looking at moving into mass production in mid-April.
PublicInvest Research expects double-digit profit margins from SCGM's new business segment, it said in a note, although it had yet to impute the new earnings contribution into its earnings forecasts for the group.
Rubber players have also stepped up to the plate, according to Reuters. It reported that Top Glove Corp Bhd is preparing a facility to produce face masks, which will be ready in two months, with a production capacity of 110 million masks a year.
The world's biggest condom manufacturer Karex Bhd has also converted two of its lubricant lines to make hand sanitisers amid requests from medical customers.
Others have said they are looking at developing and distributing Covid-19 diagnostic-related equipment. One of the earlier companies which had announced making such a testing kit was MyEG Services Bhd (MyEG). It said it would be introducing a rapid testing kit in Malaysia and the Philippines, and that it was being developed by a "leading diagnostics company".
The company claimed the testing kit had been approved by health authorities in China, where it was widely used, as well as Europe, although it was not yet approved by the ministry of health (MoH) in Malaysia.
In a note, BIMB Securities Research said it viewed the announcement positively, although no changes were made to the research house's forecasts for MyEG, pending approval from the authorities.
In an interesting twist, the MoH claimed in a social media posting that the testing kits, which were being offered at RM99 each, were fake.
In response, MyEG said its kits were legitimate and had already been approved by the US Food and Drug Administration, and that it will be sold in the US. Nevertheless, MyEG had temporarily halted pre-orders for the testing kits and will only resume once it receives approval from the Malaysian government.
Meanwhile, Ho Wah Genting Bhd said it had been authorised by Shenzhen Stock Exchange-listed Wuhan Easydiagnosis Biomedicine Co Ltd to distribute its Covid-19 nucleic acid test kit and nucleic acid extraction reagent in Malaysia. In an April 4 stock exchange filing, Ho Wah Genting said its wholly-owned HWG Consortium Sdn Bhd had been authorised to distribute the products for one year, starting March 20. Earlier, on March 18, Ho Wah Genting announced that it had received authorisation from another China-based company, Xiamen AmonMed Biotechnology Co Ltd, to be appointed as a sales agent for Covid-19 diagnostic products in Malaysia, Singapore, Indonesia and Thailand.
The market reacted positively to the group's announcements as its share price jumped 56.3% to 12.5 sen last Friday, from eight sen on March 18.
Also jumping onto the medical supply bandwagon was Permaju Industries Bhd. Last Monday, it said it was looking into bottling and distributing Penaclo, which it claimed is one of the few sanitising solutions that have been found to be successful in tests in eradicating the virus.
Its wholly-owned Team Japs Sdn Bhd has inked a collaboration agreement with Hong Kong-based Pentaweft Biotech Ltd to study the feasibility of making and distributing Penaclo in the Southeast Asian region, including in Malaysia, Indonesia, Singapore, Vietnam, Thailand and the Philippines.
Last but not least, national automaker Proton Holdings Bhd, a 50.1% unit of DRB-Hicom Bhd, has announced that it would be producing 60,000 face shields at its Shah Alam facility, within 20 days from today, to assist healthcare frontliners in the fight against Covid-19. In announcing this last Thursday, it said it had obtained approval from the authorities for a small number of staff to work on the production line for the production of the face shields, with their movement and working hours monitored to ensure compliance with social distancing requirements.